Drink Up – Single – Vybz Kartel">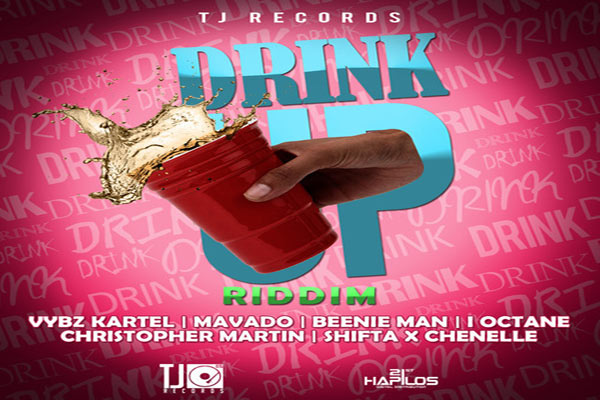 TJ Records

just dropped a new sensational Dancehall riddim packed with just all stars and hits: the Drink Up Riddim.
Often imitated but never duplicated, incarcerated international dancehall superstar Vybz Kartel keeps delivering hits after hits. His latest hit bound single on TJ Records Drink Up Riddim is the title track "Drink Up" now available on itunes via 21st Hapilos Digital.
Play below both the Kartel's single that gives the name to the whole riddim or stream Drink Up riddim full with all the other top Jamaican artists featured on it, and get your favorite song from Drink Up Riddim clicking on iTunes banner in the post.
LISTEN TO VYBZ KARTEL – DRINK UP – TJ RECORDS – OCT 2014
Drink Up Riddim features an all star line up of  Jamaican artists, including the latest single from Dancehall Hero Vybz Kartel aka Addi Innocent, titled Drink Up.
READ MORE : VYBZ KARTEL LATEST SONGS 2014
Voicing on Drink Up Riddim also Beenie Man with Champagne Fountain,Christopher Martin with We A Di Vibe,I-Octane with My Way, Mavado with Hotter Than Bred, Shifta and Chenelle with You And I.
ADDI TOOK THE RIDDIM. I-OCTANE KILLED IT TOO.
STREAM DRINK UP RIDDIM -TJ RECORDS – LATEST DANCEHALL HITS – OCTOBER 2014 

DRINK UP RIDDIM TRACK LISTING – TJ RECORDS – OCTOBER 2014
BEENIE MAN – CHAMPAGNE FOUNTAIN
CHRISTOPHER MARTIN – WE A DI VIBE
I-OCTANE – MY WAY
MAVADO – HOTTER THAN BREAD [CLEAN]
MAVADO – HOTTER THAN BREAD [RAW]
SHIFTA FT. CHENELLE – YOU AND I
TJ RECORDS – DRINK UP RIDDIM [INSTRUMENTAL]
VYBZ KARTEL – DRINK UP
VYBZ KARTEL – DRINK UP – DRINK UP RIDDIM -LYRICS – OCTOBER 2014
VYBZ KARTEL DRINK UP LYRICS
(Chorus)
We go party tonight
Drink some champagne
Smoke some weed
Don't judge me
For one day we will die
So lets live our life
So lets live our life
(Verse 1)
Star lights like R2 D2
Pretty girl come through in a the see through
Meet you at the gate or pree soul
Real gold S a spade fi the queens view
It means you necessary and it means boo
Gucci shirt wid mi cavany beans boo
Brand new clarks, sneakers sneak preview
(Repeat Chorus)
VYBZ KARTEL DRINK UP LYRICS
(Verse 2)
Tell me weh the drinks gone
Everything gone
Tell the bartender bring the bar come
Quicker than a Austraoid when the star come
Drinks everywhere now
Hand in a the air now
Like seh mi a go rob yo
But mi naw rob yo
(Repeat Chorus)
(Verse 3)
Third verse and the building a burn down
Police man seh turn the sound down
The business done have a down sound
Big up the people weh hustle down town
When wi party wi high like up town
Gaza, Baston, yow Bob Town
Craig Town

real deal