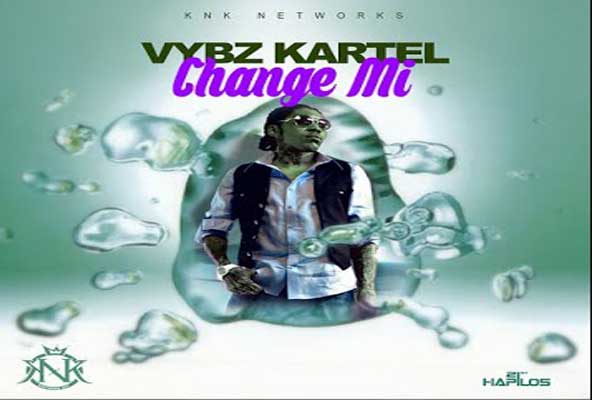 Fans of World Boss Vybz Kartel will remember the preview of – Change Mi ( Unruly ) because there was a hot snippet circulating on the internet that sent every one crazy few years ago.
A couple of years later the full single, a new hard hitting song – Change Mi, a new gallis anthem, has finally been released in full, under KnK Prod.  and distributed by 21st Hapilos.
Available on all major digital platforms, you can get on Vybz Kartel – Change Me – Unruly on  iTunes clicking on the banner below.
Listen to Vybz Kartel – Change Mi (Unruly) full song and check the lyrics to sing along with Jamaican World Boss, posted below.
VYBZ KARTEL CHANGE MI (UNRULY)
VYBZ KARTEL CHANGE MI – LYRICS
CLICK HERE FOR LYRICS
(Intro)
Meck mi tell you this straight
Mi nu have no change a change
From the crypt to the grave


This a mi life story
(Chorus)
Coby, mi gyal a try change mi
Seh a shi alone fi a f–k mi
Mi a one man weh unruly
Mi have white liver like coolie
Gaza, mi gyal a try change mi
Seh a shi alone fi a f–k mi
Mi a one man weh unruly
Mi have white liver like coolie
(Verse 1)
Gyal go change Euro, US and Pound
Yo cyaa change mi because mi nuh gyal clown
Bag a gyal pin in a mi blackberry phone
Whole heap a gyal mi waan tell mi how mi sound
The mount a baby mother weh mi have all around
When mi go Ochi mi stop in a the town
Gyal a come deh, gyal a come round
Every gyal waan page mi

(Repeat Chorus)
(Verse 2)
Mi done tell you it impossible
Mi and one gyal cyaa compatible
Look how much gyal and dme lovable
Mi want allot of benz mi cyaa comfortable
What you wishing for, is a miracle
Mi coming like Solomon weh stand up pon the pinacle
Bag a gyal in a mi life and it cyaa change yo
This a fi mi story
(Repeat Chorus)
(Repeat Verse 1)
(Repeat Chorus)

real deal