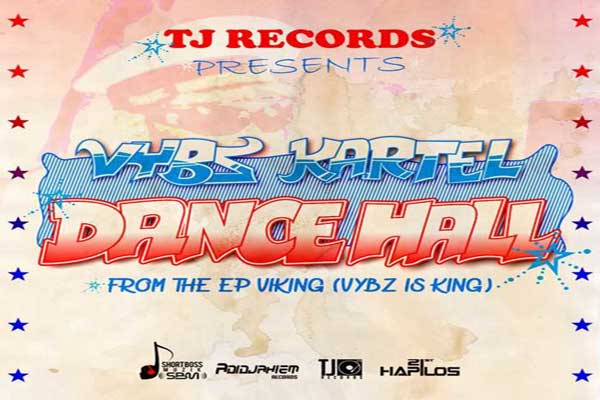 While there are several amazing fans tribute videos for one of the latest hard hitting single, titled "Dancehall", from incarcerated Jamaican Dancehall Superstar and songwriter Vybz Kartel aka Addi Innocent, real name Adidja Palmer, there is an official music video, directed by  the veterans at XtremeArts  that just dropped and you can watch it in full below.
Every day fans upload a new video tribute to legendary World Boss from all over the world , not just Jamaica, and sometimes people like to built hype on the video titles, dispatching them for official music videos and such and the same is true for new remixes and old songs voiced by Kartel back years ago and just rebranded as new to attract more hits, but the real deal and the only official video for the hit song "Dancehall"  is the one posted below.
Dancehall is one of the biggest songs in Jamaica for 2015, a song that depicts exactly the music scene, the party, the gals, the vibe and the energy . The smashing single is available for digital purchase clicking on the iTunes banner on this page.
"Dancehall" is included in Vybz Kartel's latest EP "Viking", it's the first single from album produced by TJ Records & Adidjahiem Records,  features some of the Deejay latest smashing hits from TJ Records and World Boss Vybz Kartel.
Fans of Vybz Kartel can now enjoy the full lyrics for Dancehall posted below to sing along with Kartel.
VYBZ KARTEL – DANCEHALL – OFFICIAL MUSIC VIDEO – FEB 2015
VYBZ KARTEL ADDI INNOCENT – DANCEHALL – LYRICS
(Intro)
Dancehall a mi everything
Dancehall a mi everything
Dancehall a mi everything
(Verse 1)
Junglelist
Willy bounce, willy bounce yeah
Every bad man and every tugs yeah
High grade wi a buzz yeah
F**k up the place suh the rum seh
Gyal, you look better than Beyonce
Gyal a pree you, mi baby wa do da dunce deh?
Mi a the oxygen fi yo lungs yeah
Meck yo pum, pum, speak in a tongues yeah
(Chorus)
Dancehall cyaa stall forever and ever
Dancehall cyaa stall
Dancehall cyaa stall forever and ever
Dancehall cyaa stall
Dancehall cyaa stall
Dancehall cyaa stall
Dancehall cyaa stall
(Verse 2)
Dancehall cyaa dead yeah
Gyal haffi go spin pon dem head yeah
Fashion and style haffi set yeah
Star haffi born wa yo check seh
Mi a rub on mi bleaching cream yeah
Si mi in a POrtmore scheme yeah
Haffi have rum fi the team yeah
Tell everybody seh a free fi come in yeah
(Repeat Chorus)
(Verse 3)
Gyal come fi the act
Mi slap you like a door mi a lock
If a baby you want mi have a top snack
Boy baby a when you get a back shot
Girl baby a when you get a lap, lap
Gyal yo tight nuh babes
Flop a rat trap
Lobster mi bake wid a likkle lop top
Tek dance state and you haffi hot, hot
real deal