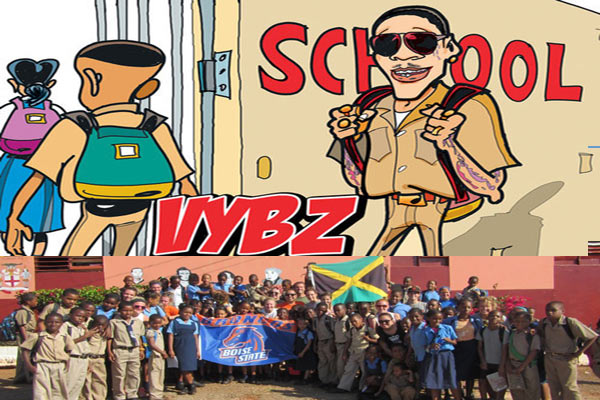 World Boss Vybz Kartel is the deejay of the people and he is giving back to his community extra-large.
A number of schools across Jamaica are expected to receive support from World Boss Vybz Kartel through his school refurbishment program.




Currently incarcerated Portmore Empire deejay and his management are working on rehabilitate his image, since everybody and their cousins have been calling up his name in the last weeks with videos and public commentary trying to portraying him as a cannibal, judging on his lyrics, his bleaching and over all the murder conviction.





style="display:inline-block;width:320px;height:50px"
data-ad-client="ca-pub-5109320371512143"
data-ad-slot="8856860513">

Vybz Kartel's name has often been used as a scape goat in Jamaica and in dancehall music from his detractors, always bringing up his name and using it with the more negative accents possible, because Kartel's controversy always sells, in his homeland as overseas.
So the recent and obsessive interest in everything that is dancehall & Vybz Kartel to be exploited right now to the maximum with journalists incursion, superficial dabs here and there to present a glimpse of the culture that still just and only achieves the objective to portray dancehall with the eye and the ears of an outsider, and generates division, instead than Unity as an outcome, does not help the upcoming legal appeal and it seems just right to also put the accent in good things a person does or is planning to do, as everybody has the right to redemption.
LET'S NOT FORGET VYBZ KARTEL HAS ALWAYS SUPPORTED THE YOUTHS LAUNCHING SEVERAL CAREERS TO STARDOM & HAS POSITIVE SONGS SUCH AS -SCHOOL -AND -CHILDREN ARE OUR FUTURE FEAT GAZA SLIM – THAT TESTIFY IS GENUINE CARE FOR THE YOUTHS.
WATCH VYBZ KARTEL – SCHOOL – OFFICIAL MUSIC VIDEO

Kartel, as told from his spoke person, Jeffrey Hype, is 

looking to identify several schools across Jamaica that need financial help.
"We have a school ting weh we a try put in order fi support some school and help some school, and try refurbish some school right now," Hype said. "We a go around and look some school weh want help. You know seh Vybz Kartel is all about children are the future."
Watch Vybz Kartel Feat Gaza Slim – CHILDREN ARE OUR FUTURE – OMV



real deal