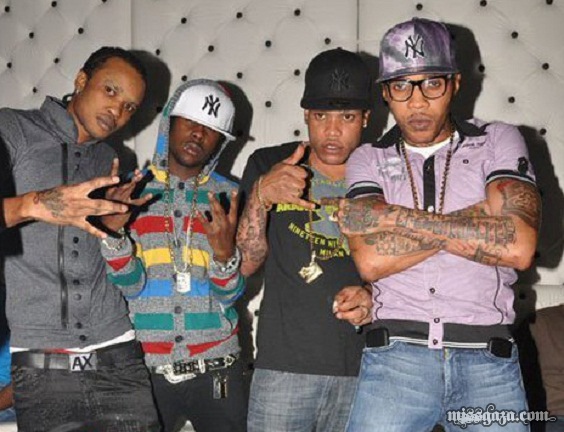 There are a couple of new hot songs from World Boss Vybz Kartel, one titled "Set It" is on the Saxual Riddim, produced by Kingston 11 Productions, and another one, titled "We Have It Locked" is produced by Samdiggy Records.
Last week World Boss Vybz Kartel released a quick statement from prison talking about his life behind bars and saying that Popcaan and Tommy Lee Sparta betrayed him. Adidja Palmer also admits that jail is the worst place on Earth.
"Jail is undoubtedly, unquestionably the worst place to be on this planet called Earth, but as it relates to my encounters with the correctional officersat the institution, I have no complaints," Vybz Kartel said.
World Boss also addressed and denied the rumors 

of being attempting suicide, beaten and stabbed behind bars and went further saying
"Despite being denied bail recently, and being betrayed by Popcaan and Tommy Lee whilst going through the darkest hour of my existence, I am unparalleled in my determination to remain positive. I do a lot of reading and writing and usually try to exercise."
While Popcaan admitted not keeping in touch with Vybz Kartel since he has been behind bars from Sept 2011, Tommy Lee Sparta, considered one of his latest loyal soldiers, revelead in a recent interview, that he also never visited Addi behind bars yet.
WATCH VYBZ KARTEL FEAT TOMMY LEE SPARTA BETRAY THE GAZA BOSS -OFFICIAL MUSIC VIDEO
There's a new unreleased before Vybz Kartel's tune from SamDiggy "We Got It Locked"
LISTEN TO VYBZ KARTEL WE GOT IT LOCK – UNRELEASED MAY 2013
Listen also to the newest Vybz Kartel's single "Set It" on the Saxual Riddim – produced by Kingston 11 a new social tune from Addi Di Teacher, check the lyrics posted below.
LISTEN TO VYBZ KARTEL SONG – SET IT -SAXUAL RIDDIM



KARTEL SET IT LYRICS
Life is like a roller coaster ride
That yo cyaa avoid But just let God be your guide
And remember blessed is the man that walketh wide
From the house weh nuff ungodly deh
Yo no fi stay beside Mi teacher seh heaven inna sky
but shi lie Pon the earth indemental everything reside
So black people hurry up recuperate yo pride Restore back the glory,
Mighty lord that's mi story
(Chorus) Meck wi set it, dem think seh wi dead
but wi survive Dem wi set it because the kids need a better life
Dem wiset it, fi trunk change mi work nine to five
When dem hear she wi bruk down wi buying over drive
Dem wi set it, dem think seh wi dead but wi survive
Dem wi set it, because the kids need a better life
Dem wi set it, fi trunk change mi work nine to five
When dem hear she wi bruk down wi buying over drive
(Verse 2) Mi get inspire from the father once again
The meditation send from the paper to the pen
Listen mi, life is no just about what yo wear
Nor yo house, nor yon car, nor the papers wa yo spend
It's about the hospitality yo offer to a friend
It's about be depending on who yo can depend
We can live in love and unity without repent
Cause not all good things come to an end
Who dem seh wi a try offend Dem tek try in mi prostitution
Painting for the trial to again
But mi have a big surprise fi dem
So tell the media from CVM to Irie Fm

real deal