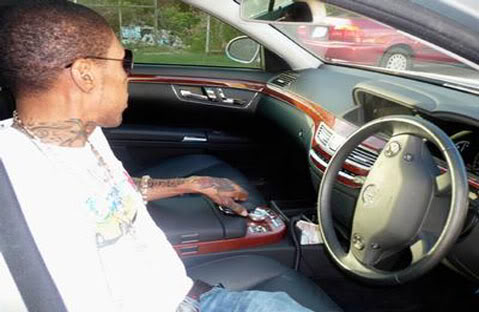 The new Vybz Kartel's car

 has been the talk of the town in Kingston this week. A 2010 S-Class Mercedes-Benz estimated to value over a million. (J$)
Addi loves his new ride and says:
"It do everything except fly, the body can raise, it just have the whole driving experience, is like yuh a drive pon air."
Kartel recently returned from a trip to Suriname where he said he performed to a crowd of over 20,000 fans.
"Suriname was crazy, Kartel owns South America, dem love mi like dem love football," he said.
Sadly, following his arrest at the end of September 2011 that would be Kartel's last live show, watch it below with all the Empire Portmore artists with him.
Watch Vybz Kartel's Last Concert In Suriname – 40 Minute Performance

He also just completed the video for the Duss Medley and has a number of new singles to be released soon.
Check out a hot new music video from Kartel! Benz Punami on S Class Riddim like his new car!
Watch Vybz Kartel – Benz Punami on S Class Riddim
Watch Vybz Kartel in Duss Medley -Official Video – Road BlockFilms

real deal