Adidja Vybz Kartel Palmer and co-accused faced another intense week of trial for the alleged murder of Clive Lizard Williams. The trial will resume again next Monday at the Home Circuit Court in downtown Kingston, Jamaica.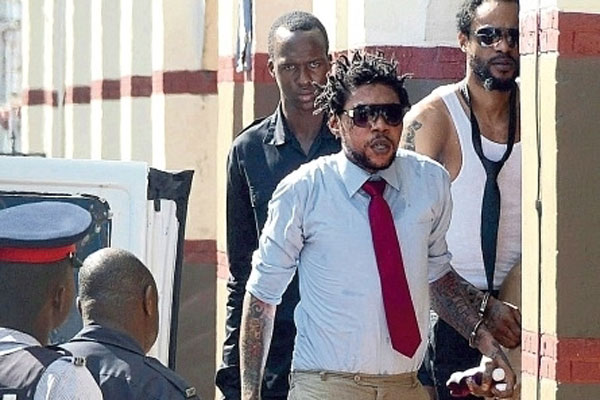 Following Clive Lizard Williams' sister and former girlfriend depositions, this past Tuesday the prosecution introduced their star witness, Lamar Chow. Lamar Chow was the man who allegedly escaped from Vybz Kartel's house on August 16, 2011 and the one that reported the men to the police.
Under question from lead prosecutor Jeremy Taylor, Chow told the court about his version of the incident leading up to the disappearance of his friend Clive Williams. Chow released a shocking testimony where he described hi memory of the night.HE  told the court that the whole ordeal was over a missing firearm. He said Vybz Kartel and the co-accused himself and Williams where all in the house on in Havendale, St. Andrew.
Chow said Shawn "Storm" Campbell accompanied them in a taxi to the home where Vybz Kartel invited them inside and began questioning them about some missing firearms.Chow said he and Williams told the men that they were planning to buy back the guns that went missing. However, despite their plea, he said Kahira Jones held on to Williams from behind while he was able to run away somewhere in the house but Vybz Kartel and Shawn Storm went looking for him. Chow told the court that the two man brought him back into the living room where he noticed Clive Williams was laying on the ground motionless and Kahira Jones had a building block in his hand.He said he was in fear of his life and managed to get away from the men and ran. The witness said Vybz Kartel was chasing him and was bitten by a dog that was in the yard.By this time the jury was listening attentively to every detail of his testimony. Chow was shaking and surrounded and protected by more than 10 police officers.
VYBZ KARTEL -MOTHER'S LOVE – SO UNIQUE RECORDS – JULY 2013[youtube]http://www.youtube.com/watch?v=w2rOYurEtHs[/youtube]
Lamar Chow said he and  Vybz Kartel the same night shared in a cab to the hospital before returning to the Waterford community in Portmore. Chow said he was told by Shawn "Storm" Campbell that he should not tell anyone about what happened to Clive Williams. However, he said he told everyone who asked him.
Yesterday things got turned around when a defence attorney in the Vybz Kartel  trial suggested that the prosecution's main witness "sold" the accused men for "30 pieces of silver" like Jesus was, concocting a story of murder to avoid picking up a gun charge. The witness was being cross-examined by Pierre Rogers, the attorney for Kahira Jones, who — along with Kartel, Shawn 'Shawn Storm' Campbell, André St John and Shane Williams — is being tried in the Home Circuit Court for the August 16, 2011 alleged  murder of Clive 'Lizard' Williams in a house in Havendale, St Andrew.
real deal