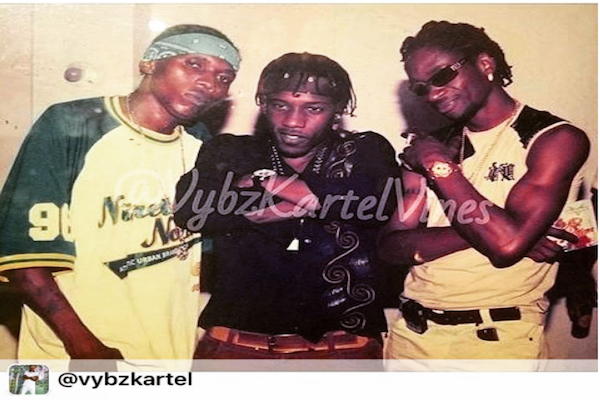 If you follow Worl Boss Vybz Kartel on his official Instagram account, you have noticed that Vybz Kartel tagged Alliance's Don Bounty Killer along side Wayne Marshall in a throw back photo.
Maybe not everybody knows or remembers that Vybz Kartel and Bounty Killer go way back, with Kartel's having once being part of the Alliance, when he was also ghost writing for both Ang Bounty Killer and Mavado.
The old school picture of the three Jamaican artists was uploaded to Vybz Kartel Instagram official account and Alliance General Bounty Killer, which Kartel referred to as Daddy was tagged in the caption, that says

Me ,big Breda and DADDY!!! #AllianceDays …BTW dem say me get skinny. Apart from 2014 family day pic at horizon,when was VybzKartel ever fat? Smh #AllianceToGaza"
Alliance General and founder Bounty Killer, also known as War Lord, commented, with the typical Jamaican sense of humor
"Rassclaath man this is a fling far fawud all black alliance days"
referring to the days that Vybz Kartel was darker and didn't yet started bleach his skin.
In the post World Boss Vybz Kartel The Teacha, also highlights that while a lot of people has been writing and commenting he got skinnier,that he Vybz Kartel has never been fat before, with exception of a photo taken during Family Day in August 2014 at Horizon Centre's facility, writing
"the only time I ever fat or had little weight was " 2014 family day pic in at horizon."
Fans of the incarcerated superstar have been expressing concerned for his health state, and even if Kartel's kidney infection has been treated, there are some suspicions surrounding his health and the living conditions in prison,

where Vybz Kartel already escaped a plot to kill him in prison.
Vybz Kartel has been undergoing extensive tests, blood tests and other type of medical checks while at UWI hospital last week, because his entourage has strong suspicions that somebody again may try to stop him to reach the trial alive.
Vybz Kartel, real name Adidja Azim Palmer, has been behind bars since the end of 2011 and his currently facing a sentence of 35 years in prison without parole with three other co-accused for the murder of Clive Lizard Williams whom body was never found.
He will appeal the sentence with the new trial starting on February 19 2018.
Vybz Kartel's name is becoming bigger than life with many overseas superstars paying tribute to the artist's music featuring themselves dancing and singing along to Kartel's music and more and more international artists requesting to record with him or featuring a Kartel's verse, on top of that there are a string of hot new singles coming out non stop, after he already landed in the Billboard and topped with "Fever" the Itunes Reggae Charts in the past weeks. #VybzKartel #Unstoppable
#FREEWORLBOSS
Listen to this throw back song, still hot like fire, that Kartel, Bounty Killer, Baby G & Don Corleon did together, titled High Altitude, back in the days.
High Altitude-Vybz Kartel Ft.Bounty Killa,Baby G,Don Corleon

real deal