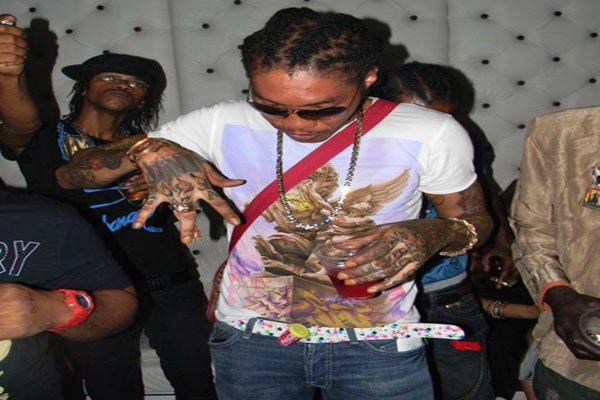 During his outgoing trial, incarcerated reggae dancehall superstar Vybz Kartel addressed the court this morning. 
Adidja Palmer
told the court that few days after doing a question and answer session, the investigating officer, who at the time was an inspector, charged him for murder. 
He said he was denied bail because of false stories that the police said about him.
During the deposition Kartel also called his sister, Maureen Nelson, who is the vice principal of the Cumberland High School, to give character evidence.
She said Kartel is the third of six children, and she's the eldest. Nelson said they are a very close-knit family and that Kartel is very kind.  As she testified, Kartel was seeing wiping his eyes.
"When he started out as a DJ, the first things he did was buy a house for his mother and a car for his father," she said.
She said both parents are still together. Kartel's sister said their parents ensured that they attended church on Sundays and school from Mondays to Fridays. She added that people in the community called them 'grill up' because they were always inside when other children were outside playing.
Shane Williams and Andre St John, two of the men charged jointly with murder with Vybz Kartel, were moved to tears this afternoon as they emphasized in their unsworn statements that they were innocent. Williams who was allegedly linked to the murder because of a voice on a video was moved to tears saying:"That is not my voice on the video."
>The prosecution's main witness had identified the voice on the video to be that of Williams but the accused said he did not know the witness and had never seen him before or ever spoken to him.
The witness had admitted under cross-examination that he did not really talk to Williams but would join in conversations when Clive 'Lizard' Williams and the accused Williams were talking. St John, a barber who is also called 'Madsuss' wept as he said he was a single parent. He said the mother of his six-year-old daughter was killed in a motor vehicle accident.
"I am here today in this box speaking as an accused only to the fact of being associated with Vybz Kartel."
"I don't know where Clive 'Lizard' Williams is. I did not see him on August 16, 2011," St John said.
He said the prosecution's main witness came to the premises at 7 Swallowfield Avenue, Havendale on August 16, 2011 while he was on his way to his barber shop at 59B Mannings Hill Road. He said the witness was unaware that the dog was loose and the dog attacked him.
"Vybz Kartel went to protect him, he got bit and I got hold of the dog and took him to the back of the premises and tied him up," St John said.
"When I returned to the front of the premises Vbyz Kartel and others were not in the yard", he said.
The accused said he then left for his barber shop where he also lived.
"I don't know of any plot or plan of this alleged murder whatsoever. It is all a plan. I don't know where Clive Williams is and I am an innocent man. That is all I have to say". "I have never been to 7 Swallowfield Avenue," he said. "I am innocent and I don't even know why I am even here," he said.
LISTEN TO JUNIOR REID FEAT VYBZ KARTEL & UNCLE MURDA – GUNS THEY LOAD
FULL VYBZ KARTEL'S STATEMENT TO THE COURT ON FEB 12 2014
According to  Vybz Kartel, he had to make a report to the Independent Commission of Investigations while he was in custody because he was accused of possessing cellphones.
"I am a normal person like anyone else.

"I am innocent of all these charges brought against me as a matter of fact I have never been to 7 Swallowfield Avenue and seen Lizard there – the man called Clive Williams.

"In fact my Lord, the only time I encountered that person called Clive Williams, is when he travelled with Shawn [co-accused Shawn Storm] to stage shows but we never encounter my Lord.

"My Lord, the incident that occurred on September 30, 2011 (the date of his arrest) I was at a hotel in New Kingston when the police took me and a female companion.

"My Lord they handcuffed us and took us downstairs in the lobby. Other police officers and members of the media were already there.

"My Lord after that [I] was taken to Central Kingston Police Station.

"After that the police escorted me to my house in St. Andrew, two houses as a matter of fact – one house at Swallow Avenue and then to my mother's house in Portmore, St. Catherine – where the house was searched.

"I was then moved to Spanish Town Road (where he thought was the headquarters of the Major Investigation Taskforce).

"Even most recently, the Minister of National Security Minister, the Honourable Peter Bunting took my music and my image to the State, my Lord claiming that Vybz Kartel's lyrics, My Lord, is generating scamming.

"Even in Jamaica at one point, the Minister said there were four essential factors mashing up Jamaica and I was one of them.

"My Lord, if that is not prejudicial against my case, I don't know what is.

"My Lord, I bleach my skin, I am heavily tattooed also but that is merely superficial. That is a part of the persona of Vybz Kartel not Adidja Palmer.

"I am a normal person like anyone else; I even have a family who are here today… grandmother, cousin, mother-in law. My Lord my hands are clean of Clive Williams' blood if indeed Clive Williams is deceased, My Lord.

"I have never sent anyone to kill Clive Williams, My Lord, nor did I do so myself. I am an innocent man, My Lord, that is all I have to say."
LISTEN TO DJ DAIN REMIX KING SKITTA BLING – FREE WORLD BOSS
real deal