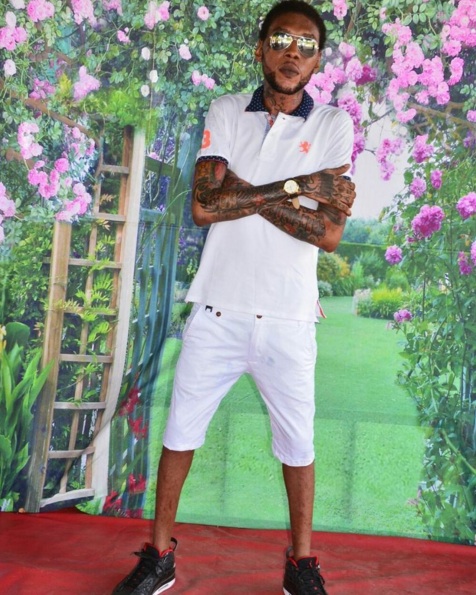 Gaza Nation and Vybz Kartel's fans check out the latest photos from Kartel's Family Day visitation in prison.
In the last few years incarcerated dancehall King Vybz Kartel, real name Adidja Azim Palmer, also known as World Boss or Gaza General, together with the other inmates of Jamaican prisons, have enjoyed family visitation and shared the photos on social media.
While in 2015 and 2016 fans had a chance to look at Vybz Kartel's family visiting him jail toward the end of the month of August, this year Kartel was again re joined by family and friends but shared the photos on his social media just yesterday. Photos portraying Kartel in prison started circulating over the internet last week but the pictures were so low quality that a lot of people thought they were fake or old because Kartel looked very skinny, younger and rocked a different style. But in the following days once the official IG account of the Jamaican Gaza General uploaded the same photos in high quality it was clear the new photos were the real deal.
While during the previous visits Kartel shared photos of himself and his baby mother Shorty, now the head of Short Boss Muzik that produces both some of Kartel and their sons PG13 tunes, this year Vybz Kartel shares photos of himself and his daughter and caption them.
Vybz Kartel's daughter wrote in her IG account
"#Daddy I love you very very much. I am so happy I had the chance to see you the other day." She said "Daddy even though it has been 2 weeks already seeing you is still playing out in front of me. I love you daddy

Vybz Kartel looked well groomed and happy, sporting a white Polo and some shades his and his daughter smiles brighten the photos.
Vybz Kartel, that appears in shape, just a little skinnier than usual, will appeal his sentence of 35 years behind bars without parole for the murder of Clive Lizard Williams, with his four co accused starting on February 2018.
The incarcerated dancehall star has been collecting a series of big success with his music, even if behind bars now by 6 years, landing Fever in R&B Billboard Top 50, having the same single remixed by Diplo, gaining gold status with Party Next Door single Not Nice, and being featured in Busta Rhymes new single Girlfriend featuring Tory Lanez.
The Jamaican dancehall reggae star has a hand full of hot new singles out, a new one featuring Ishawna titled How Can You and a new remix produced by popular Major Lazer that samples back Party Next Door and is titled Oh Yeah Run Up.
One of Kartel's latest single Luxury Doll has been receiving some criticism for some lyrics where Vybz Kartel's apparently endorse plastic surgery specifically breast and butt enhancement. But Vybz Kartel has been describing all sort and type of women already before and his admiration for female body parts, so he didn't want to discriminate the plastic surgery ones and give the message that he likes a woman that feels comfortable in her body, but Kartel likes all the women and it's no secret from skinny to fluffy to implanted. Listen to Vybz Kartel Luxury Doll here.
LISTEN TO VYBZ KARTEL GOOD FATHER
real deal