Jamaican Dancehall superstar Vybz Kartel, real name Adidja Palmer, along with Shawn "Storm" Campbell, Kahira Jones, André St John, and Shane Williams are all on trial for the alleged murder of Clive "Lizard" Williams.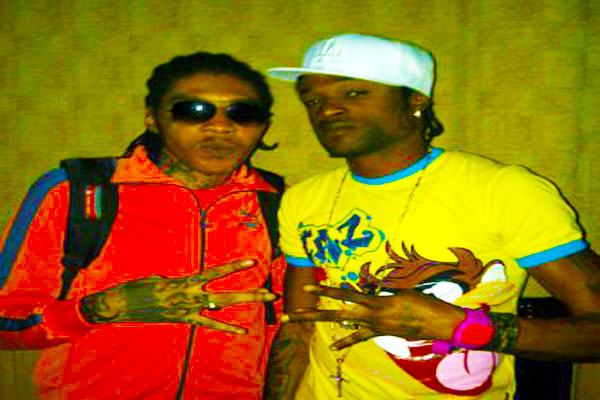 Vybz Kartel's Clive Lizard Williams alleged murder trial begun a week ago in the Home Circuit in Kingston Jamaica.
Let's recap the main developments on

the first week of trial:  three senior police officers were called to the witness stand, as well as, Clive Williams' sister and girlfriend.
During yesterday cross-examination of head of Senior Superintendent Cornwall 'Bigga' Ford — who heads the Flying Squad — Tavares-Finson suggested that the police had intentionally informed the media of the operation in order to prejudice the case against his client.
Christian Tavares-Finson, who represent Vybz Kartel, says so far there has been nothing incriminating to convict his client. "Did you notify the press?" Tavares-Finson asked Ford. "I had no communication with the press," Ford answered. "So, I take it you were alarmed when Mr Palmer was being paraded around on TV in handcuffs?" the attorney added.
"Good news travel fast. I cannot speak for what the press does," Ford replied. 
"Mr Ford, I am suggesting that this is part of a police conspiracy to prejudice the trial of this man Adijah Palmer," Tavares-Finson said. 
He also suggested that the police had concocted a theory that a burnt-out, decomposed body was found at house on Swallowfield Avenue, which was owned by Vybz Kartel. Earlier, the attorney suggested the same thing to Superintendent Winston Henderson and Detective Corporal Avrel Thomas, of course the officers denied but then who alerted the press really?
Henderson also came under fire from attorney Miguel Lorne, who represents Shawn 'Storm' Campbell. Lorne asked Henderson if he had arrested Calvin Haye, who was acquitted on Wednesday, and his girlfriend, before releasing them days later and then re-arresting Haye again ten days later after naming him as a person of interest, before releasing him again. Henderson replied in the affirmative.
 "Mr Henderson, you don't know what you are doing? You pick up the man, release the man, pick him up back and then the man is dismissed. You are fishing,"  Shawn Stomr's lawyer replied.
Henderson testified that armed with three search warrants — two for illegal possession of a firearm and one for illegal possession of property — he led a joint police/military team to houses at Hacienda Drive in Norbrook in St Andrew, Swallowfield Avenue in Havendale, St Andrew and Independence City in Portmore, St Catherine which were owned by Vybz Kartel.
He said he seized 14 cellular phones and placed them in a secure place in his office to which no other person has access. He said the phones were held at the Flying Squad headquarters at Harbour Street in downtown Kingston for two months because the police wanted to display them for people who had been robbed to identify if any of the instruments belonged to them. The phones were then handed over to the Cyber Crimes Unit, Henderson said.
VYBZ KARTEL COURT CASE CARTOON – FREE WORLD BOSS THE TRIAL



Evidence was also tendered by a sister of Williams, who admitted under cross-examination that her brother had been previously charged for illegal possession of a firearm and shooting with intent.
After the first week of trial Vybz Kartel's lawyer told the press "We feel very confident, you know we have our instructions and we are proceeding along those lines," Tavares-Finson, from Finson & Associates, told Irie FM. 
"Thus far there is nothing really to suggest that our client is guilty of anything." On the same page Shawn Storm's attorney, Miguel Lorne, that also remarked how it was regrettable that fashion stylist Calvin "Moonie" Haye endured for two years only to be told there is no evidence against him. "The case is now one week old and so far the prosecution has been trying its best to put up a presentable case," Lorne said. "So far the evidence would not be able to convict any of the five accused."
THE TRIAL WILL CONTINUE NEXT WEEK. STAY TUNED FOR UPDATES.
real deal