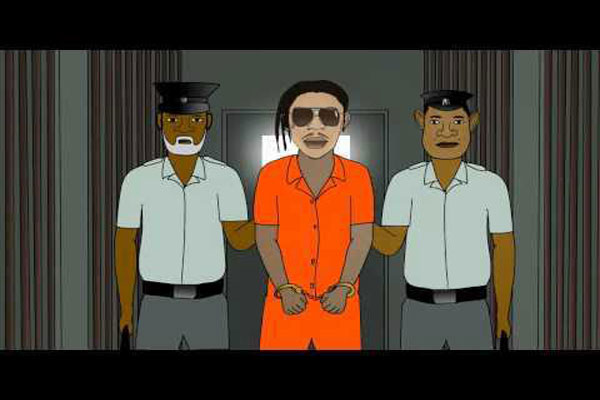 Jurors have been sent home yesterday December 5 and the courtroom cleared in the Vybz Kartel 's alleged murder trial to allow the court to determine the admissibility of certain evidence in the case. Patrick Linton, former head of the Jamaica Constabulary Force's Cybercrime Unit gave evidence.
The court was told that his evidence had implications for national security, hence the need to have the courtroom cleared. Linton's evidence relates to telephone and other devices seized from the entertainer.
READ MORE : VYBZ KARTEL'S TRIAL LATEST NEWS BLOOD SAMPLE DOES NOT MATCH VICTIM, VYBZ KARTEL PLEADS NOT GUILTY
Adijah Vybz Kartel Palmer  and four other men are on trial for the murder of Clive 'Lizard' Williams. The prosecution is contending that the murder was committed at the entertainer's Havendale, St Andrew home on August 16, 2011.
Yesterday  after the judge sent home the jury and cleared the courtroom of all press and observers for the testimony of former Jamaica Constabulary Force's Cybercrime Unit head, Patrick Linton. He told the court that his testimony would have national security implications. The defense attorneys agreed and so nobody really knows what went down in there.
It's also possible today that an employee of Digicel will testified in court.Former Cybercrime Unit head, Patrick Linton, continues to give testimony in the absence of the jury, the media, and everyone else since the courtroom is  already clear.
A large crowd of Vybz Kartel supporters gathered outside the court chanting  FREE WORLD BOSS and  earlier this morning Vybz Kartel common-law wife Shorty was spotted outside the court.While the matter get wrapped in more mystere the judge asked the jury to return to court on Monday. The trial should wrap up by  mid-week next week.
BEST OF VYBZ KARTEL MIX  DJ YELLO[youtube]http://www.youtube.com/watch?v=Mf9O1pgzNAE[/youtube]
real deal