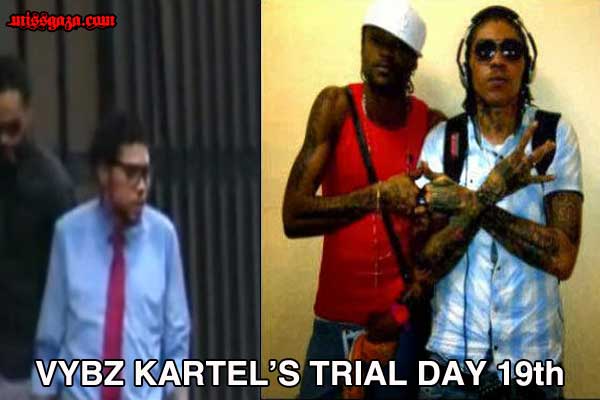 Latest news on Vybz Kartel case and trial. The alleged murder trial for dancer Clive 'Lizard' Williams was expected to resume in the Home Circuit Court in downtown Kingston this monday.
Vybz Kartel's trial re started with private sessions as detective Sergeant Patrick Linton continued his testimony yesterday, Wed Dec 10. Todays proceedings will be in camera, without the presence of the jury, the media and the public.
Jamaican police officer Patrick Linton has been in private sessions with the attorneys and the judge since last week, presenting pieces of electronic evidence, to determine whether or not the evidence can be used in this case. An administrator from the Jamaica's border management testified in the Vybz Kartel murder trial that no records were found of Clive Lizard  Williams leaving Jamaica from 2005.Due to the lack of witnesses and repeatedly delay in proceedings Vybz Kartel's lawyer Tom Tavares-Finson said that it was unacceptable with only a few days left before Christmas.
LISTEN TO VYBZ KARTEL JAH JAH WATCH OVER ME – MIND THERAPY RIDDIM – DOWNLOAD PROMO MIX HERE
Justice Lennox Campbell agreed with Tom Tavares-Finson but the prosecution then insisted that the witness had a personal matter to deal with and could not make it to court.The handwriting analysis results are ready and today the defense will be calling back the star witness Lamar Chow to the stand.
The witness allegedly wrote a letter to Public Defender Earl Witter saying he did not want to testify in the trial and is being forced by the police.
Vybz Kartel, and four other accused for the alleged killing of dancer Clive 'Lizard' Williams returns today to the Home Circuit Court in downtown, Kingston Jamaica. The Police believes that dancer 'Lizard' was murdered on August 16, 2011 two(2) years ago at Vybz karel's Home in Havendale, St Andrew.
World Boss Vybz Kartel, is jointly charged along with Shawn 'Storm' Campbell, Kahira Jones, André St John, and Shane Williams. Another co-accused, Calvin 'Moonie' Haye was freed of the charges. Since Tuesday this week the judge cleared the courtroom of everyone including the media and the jury.
This will go on until Friday when former Jamaica Constabulary Force's Cybercrime Unit head, Patrick Linton, testimony is scheduled to be wrapped up. The cybercrime cop has been giving testimony behind closed doors since last week. He told the court that his testimony could have national security implications. Judge Lennox Campbell ordered jurors back to court on Friday at 10 a.m.
 The high profile trial which started on November 18, is now in its fourth week and appears to be heading into its fifth. Will  the trial will end beforeChristmas?  Will World Boss walk soon free?
LISTEN TO JAMAICAN REGGAE DANCEHALL MUSIC – JUNIOR REID FEAT VYBZ KARTEL – GUNS DEM LOAD



real deal