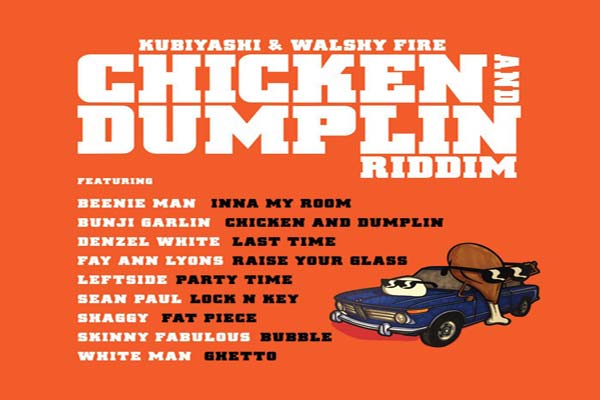 Walshy Fire, the original Jamaican Dj & producer, presents the official audio for Chicken and Dumplin by Bunji Garlin, Kubiyashi & Walshy Fire.
Check out the inspiration and description behind Chicken & Dumplin Riddim with Walshy Fire own words below:
Original Dancehall Maxi Taxi style. When everyone had speakers rattling there trunk and Clarks on there feet. This one is for anyone who has had to go through some level of obstacles….and made it! And now a new set of people have appeared who have no clue what you had to go through to get where you are. They don't remember when you could barely afford a CHICKEN AND DUMPLIN.
Chicken & Dumplin Riddim features a serious line up of Jamaican dancehall reggae artists as Beenie Man, Shaggy, Sean Paul and soca Star Bumji Garlin among the other artists voicing on it.
Check the full track isting for this fresh dancehall reggae riddimand download a free promo below or get it on iTunes clicking  on the banner in this page
Stream Bunji Garlin, Kubiyashi, Walshy Fire – Chicken and Dumplin Riddim Official Mix
DWNLD CHICKEN & DUMPLIN RIDDIM
Chicken and Dumplin Riddim Tracklist:
01 – Beenie Man – Inna My Room
02 – Bunji Garlin – Chicken and Dumplin
03 – Denzel White – Last Time
04 – Fay Ann Lyons – Raise Your Glass
05 – Leftside – Party Time
06 – Sean Paul – Lock N Key
07 – Shaggy – Fat Piece
08 – Skinny Fabulous – Bubble


09 – White Man – Ghetto
Walshy Fire Bio:
Walshy Fire is an international DJ/Producer/Performer, who, along with Diplo and Jillionaire, is one of the members of Major Lazer. Walshy is also a full fledged member of the world famous Reggae sound system Black Chiney. Walshy has been pushing Caribbean, Hip Hop, Afrobeats and Electronic music across the globe for over two decades.

real deal