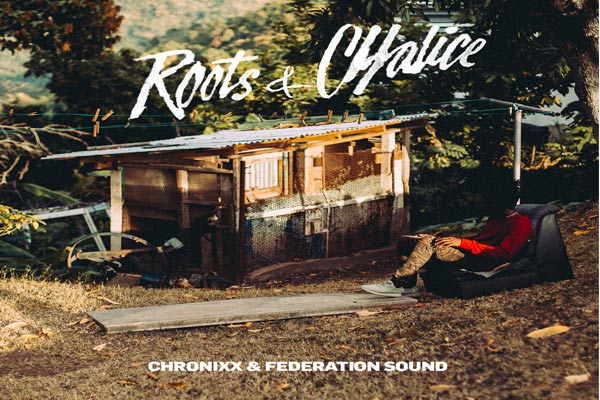 Coachella 2016 + U.S. Tour Confirmed For April (Dates Below)
After a 2015 rich in guest appearances (Joey Badass, Allan Kingdom, Inner Circle, Major Lazer, Protoje & Maverick Sabre), Chronixx enters the new year with new music in the form of Roots & Chalice – a  reggae packed mixtape collaboration with renowned Brooklyn sound system Federation Sound – and an April U.S. tour (including Coachella 2016) in support of the project.
This week, he drops the first visual from Roots & Chalice entitled "Perfect Tree" featuring Easah. The video sets the tone for mixtape's theme as Chronixx professes his love for herb over Blackstar's iconic "Respiration" (feat. Common) beat.
Roots & Chalice follows the critically-acclaimed Start A Fire mixtape with Walshy Fire (Major Lazer) in 2012, that you can still download clicking here.

This new reggae mixtape is guaranteed to wet the appetite for the Spanish Town singer's highly-anticipated debut album planned for later this year.
The first track lifted from Roots & Chalice is titled "Majesty." Studio One lovers will recognize the instrumental – Otis Gayle "I'll Be Around" (Sound Dimension / Studio One) – with added guitar provided by Nnamdi Robinson of Zincfence Redemption. The second song is "Spanish Town Rockin", an instantly familiar yet fresh take on Barrington Levy's "Prison Oval Rock" and third, thought-provoking "Sell My Gun" produced by Teflon & S.O.S of Zincfence Records. Never one to not share the limelight, the project also features guest appearances from Dre Island, Kelissa, Kabaka Pyramid and Eesah another member of the Zincfence family.
Chronixx rounded off a historic 2015 with the second staging of the landmark Capture Land Jamaica Tour which saw him performing in his home town Spanish Town for the first time and also visited Manchester and Falmouth, Jamaica.
Continuing on from the groundbreaking Glastonbury performance last year, it was recently announced that Chronixx will perform at the Coachella 2016 in California, USA, as well as Wildlife & Parklife Festivals, UK & Love Box Festival, UK. More dates will be announced in Europe, Africa, West Indies, Japan and North America.
Chronixx and ZincFence Redemption – Roots & Chalice Tour
16 April

@ COACHELLA – Indio, CA

17 April

@ CRESCENT BALLROOM – Phoenix, AZ

19 April

@ FIRST BANK CENTER – Denver, CO

20 April

@ BILL GRAHAM CIVIC AUDITORIUM – San Francisco, CA

21 April

@ THE CATALYST – Santa Cruz, CA

22 April

@ HARLOW´S – Sacramento, CA

23 April

@ COACHELLA – Indio, CA
real deal