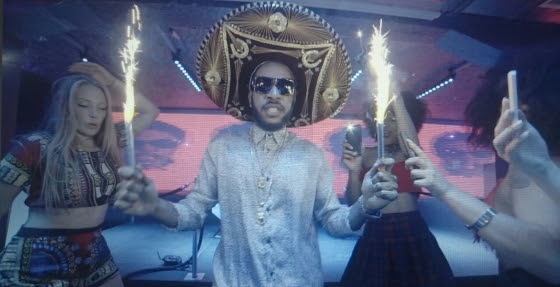 Vybz Kartel, Don Andre` Hit The Bull's Eye 
Whine Yuh Waist Suh Bound for "Song of the Summer"
Vybz Kartel proves he remains at the helm of dancehall with the hot new video, Whine Yuh Waist Suh alongside British hit maker, Don Andre`. The True Blue produced record is Latin influenced, bringing a bevy of exotic Hispanic beauties to the screen.
Whine Yuh Waist Suh, was shot on location in Germany by director Niculai Constantinescu. The video features Don Andre`wearing a matador outfit with the intention of conquering the prized bull. Vybz Kartel though unable to be on set is featured throughout the video. Both artists slayed on screen and made a strong statement of what to expect from this record.
"Anyone who has been following my career knows how much a collaboration with Vybz Kartel means to me. Dancehall music is the genre I am most passionate about, and Kartel is the leader . It's a no brainer! This is more than a dream for this video to come to life, despite the obstacles. It just goes to show that anything can be possible," Don Andre` said.
Producer True Blue who has recorded several songs with Vybz Kartel first saw the vision for this collaboration.


"Vybz Kartel has a unique sound and is very lyrically inclined. While listening over the original song, Don Andre`came to my mind. He has a completely different flow and has excellent melodies. Together they both bring a different level of amazement to the table and capture two different audiences. The song came out spectacular and the video is now making it even more remarkable," producer True Blue explained.
Whine Yuh Waist Suh is available through all major online outlets while the music video is exclusively available through VEVO.


Watch Vybz Kartel, Don Andre` – Whine Yuh Waist Suh (Official Music Video)

real deal