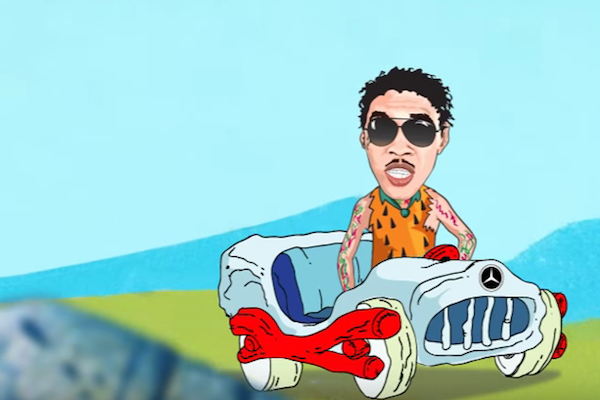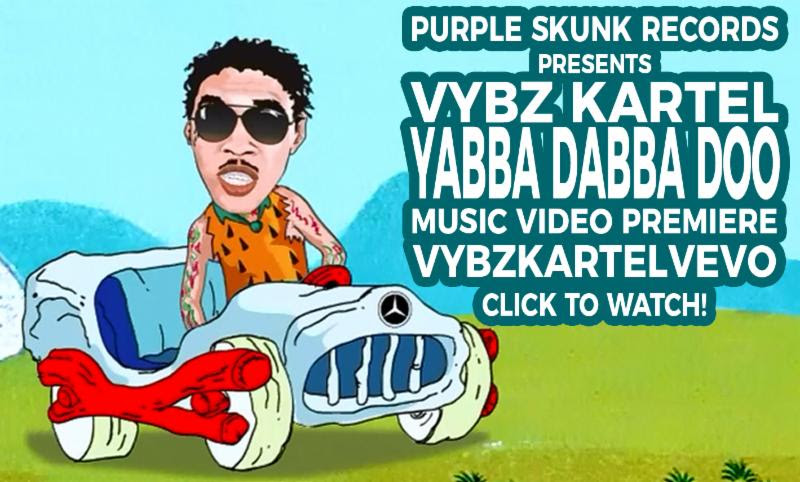 VYBZ KARTEL "YABBA DABBA DOO" PURPLE SKUNK RECORDS
Purple Skunks Records presents the animation / music video premiere for
"Yabba Dabba Doo," by Vybz Kartel, the Flintstones themed dancehall track that's been taking the airwaves by storm! Watch World Boss Vybz Kartel's latest official music video for his newest viral dancehall anthem "Yabba Dabba Do", produced by Purple Skunk Records and distributed by Zojak World Wide.
Vybz Kartel's latest nuclear single "Yabba Dabba Do" dropped less than a moth ago and some preview of the cartoon animated video has been circulating making his fans wanting more and finally the official music video in high resolution, animated by Niephus, was updated in Vybz Kartel's Youtube Vevo account.
Useless to say than in few hours the video went viral, ranking up hundreds of thousands of views. Once again all eyes on Kartel's music genius and this incredible animated new music video with World Boss dressed as Fred Flintstone in his prehistoric G Wagon going around and deejaying about bleaching the skin, a topic Kartel already elaborated on. "Yabba Dabba Do" was already a super cool, catchy and vibrant song, built on a smooth beat and the animated video just takes it to another level! Watch it below to believe it! World Boss looks amazing in a cartoon costume!. Around him dancehall queens shake it for Di Teacha while listening to bleaching lessons and where to buy the ingredients and what not to use in the process.
Jamaican dancehall artist Vybz Kartel, real name Adidja Azim Palmer, just celebrated another birthday behind bars, at the General Penitantiary in Kingston. He turned 42 years old on January 7th, and several Jamaican entertainers like Bounty Killer, Tommy Lee Sparta, music producers like Notnice and many others artists shared on social media their love and wishes for World Boss, tagging him. His former student Popcaan, now a dancehall star on his own, also shared his best wishes too, but Vybz Kartel did not thumb back his post, showing clearly that he is still not cool with Poppi
Has any dancehall student knows there's plenty of literature about them, and even a song from PG 13, Lil Vybz and Lil Addi, Vybz Kartel's sons, titled "Radio" where they also take jabs to Popcaan, you can still listen here.
Vybz Kartel has a string of new songs ready to go for this new year and celebrates in 2018  25 years of business in the music industry, despite his incarceration Kartel has been able to keep stay relevant and prevalent in dancehall music for the whole past year, closing the year with 3 dancehall singles in Top 10 Jamaican Dancehall music charts for December 2017, check it here. Vybz Kartel is currently still behind bars and awaiting the start of his appeal's trial set to start on at the beginning of July 2018.
Support Vybz Kartel and the music producers and get his latest song Yabba Dabba Do on iTunes clicking on the banner on this page.
WATCH VYBZ KARTEL YABBA DABBA DO OFFICIAL MUSIC VIDEO PURPLE SKUNK RECORDS JANUARY 2018
real deal