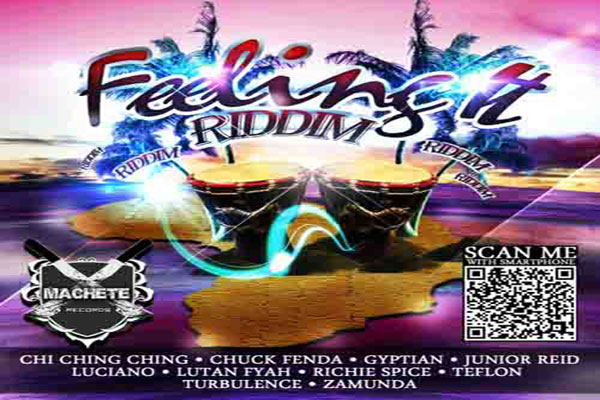 Feeling It Riddim is a new reggae dancehall music riddim. It's a big Riddim, that features big Artists and big wise tunes.
If you are looking for some of the best reggae dancehall songs for 2012, look no further and play the songs featured in the full mix posted below.
Machete Records, based inna UK, and already the production team behind other popular reggae dancehall riddims such as Fishscale Riddim, Dark Lake Riddim, Full Moon Riddim, to mention a few, brings now the Feeling It Riddim .
Feeling It Riddim is built on a solid One Drop Juggling. Voicing on it recording Jamaican artists Junior Reid, Teflon, Luciano, Gyptian, Lutan Fyah, Richie Spice, Zamunda, Turbolence, Chi Ching Ching and Chuck Fenda.
LISTEN TO FEELING IT RIDDIM FULL MIX
FEELING IT RIDDIM TRACKLIST
JUNIOR REID – SHARING THE NIGHT TOGETHER
TEFLON – CLEAN UP U HEART
LUCIANO – THEM NEVER KNOW
GYPTIAN – I'M IN LOVE WITH U (RADIO)
GYPTIAN – I'M IN LOVE WITH U (RAW)
LUTAN FYAH – DEM GROUNDS
RICHIE SPICE – CHANGES (PEOPLE GET READY)
RICHIE SPICE – CHANGES (PEOPLE GET READY) (DUB)
ZAMUNDA – ROUGH LIFE EASY
TURBULENCE – SHE WANNA BE FRIENDS
CHI CHING CHING – PUSH ME LUCK
CHUCK FENDA – CAN CHANGE THIS
MACHETE RECORDS [UK] – FEELING IT RIDDIM VERSION (DUB)
MACHETE RECORDS [UK] – FEELING IT RIDDIM VERSION
real deal