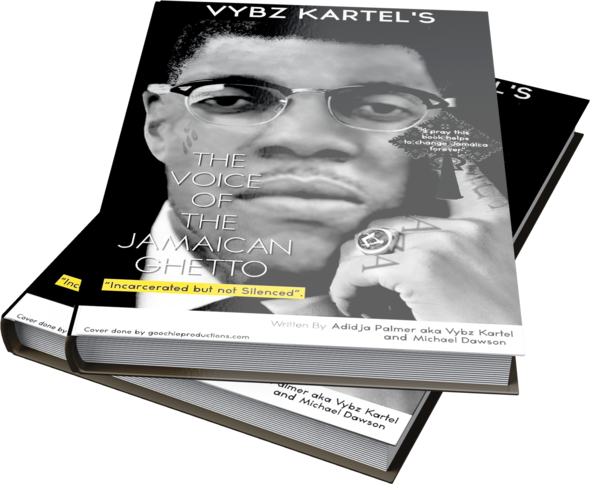 GHETTO PEOPLE PUBLISHING COMPANY LTD
Listen To Vybz Kartel's audio message from Jail October 2011
How to understand Vybz Kartel without reading his book/ Manifesto "The Voice Of The Jamaican Ghetto", that Adidja Palmer  co – wrote with Michael Dawson? "The Voice Of The Jamaican Ghetto" is not  a book just for Vybz Kartel's fans or the Gaza fans, it's a book that while explaining Vybz Kartel/ Gaza Livity & Philosophy, going personal with Addi's own life and experiences, also approaches several and different social & economic issues worth some reasoning.
Read More here: UWI PROFESSOR CAROLYN COOPER REVIEWS VYBZ KARTEL'S BOOK | VYBZ KARTEL UWI SPEECH
The more you'll read this book the more you will understand Adidja and Vybz Kartel, his lyrics, his message, his "controversy", Gaza and Jamaica. The book constantly references to historical backgrounds and current facts  and stats, showing the authors did they research  on real facts and their cause/effect on Jamaican society, dissecting models, role models and so on, sharing some simple but probably effective recipes to improve the state of things in beautiful Jamaica. And while the book talks about Jamaica Kartel's message, is global.
VYBZ KARTEL 'THANK YOU JAH' – OFFICIAL MUSIC VIDEO –  2010
Vybz Kartel and Michael Dawson wrote a book for rebels, if there are any real rebels left they are advised to read Addi's book. Innocent or  guilty incarcerated dancehall star  Vybz Kartel speaks up on a lot of issues in The Voice Of The Jamaican Ghetto, reasoning on history and even a bit of esoterism while celebrating Jah Love, his mom and the mother figure, he also explains why there's no love for the black child, his bleaching habits and much more and since the Youths don't even read books anymore hopefully they 'll read Vybz Kartel's one.
THE BOOK INCLUDES 10 CHAPTERS.
EACH IS – MORE OR LESS- 20 PAGES LONG.
THE BOOK ALSO INCLUDES A GLOSSARY.
CLICK HERE TO BUY VYBZ KARTEL'S BOOK THE VOICE OF THE JAMAICAN GHETTO