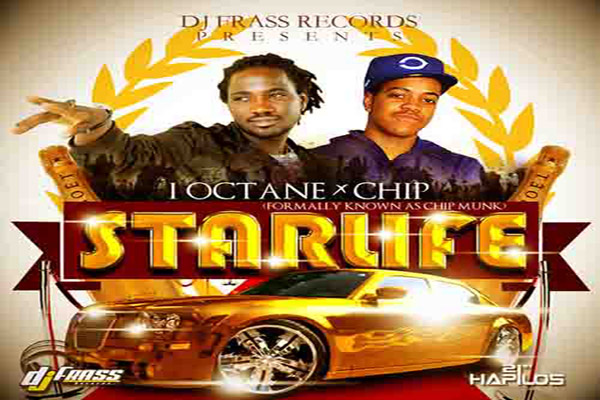 I-Octane continues his dominance on the dancehall scene with several hard-hitting singles.
I-OCTANE/CHIP - aka Chipmunk – STAR LIFE – DJ FRASS – NOV 2012

[youtube width="640" height="344"]http://www.youtube.com/watch?v=oQwJsafbMUk[/youtube]
The Digicel Brand Ambassador's latest single, with Bounty Killer, –  Bad Mind Dem A Pree, has been receiving a lot of radio airplay and it is also been sitting in the number one position for the past three weeks on the ER Top 10 Singles chart.
I-Octane is not new to being number one as  throughout the year  he has enjoyed charts dominance with singles such as L.O.V.EY.O.U, Love Di Vibes, Jiggle Fi Mi and My Story and the newest – Star Life with Chip.
I-Octane is unstoppable with a big numbers of new singles and voicing on a lot of new riddims.
Right now the artist  has  three new videos released over the past two months -

 More Money, Bun It and Laugh 

and

 Badmind Dem A Pree

 – directed by

 Scorpio 21 and also there are  Youtube episodes filming the artist's life.
I-OCTANE – MORE MONEY – OFFICIAL VIDEO BY JA PRODUCTION[youtube width="640" height="344"]http://www.youtube.com/watch?v=AeVeJIIVkmc[/youtube]
I OCTANE – Bun It and Laugh – Official Video by Scorpio21

[youtube width="640" height="344"]http://www.youtube.com/watch?v=Y6WjB4Y8FYU[/youtube]
The artist's schedule for the next month of December is pretty busy, starting with December 7 he will be  at Courts grand opening in Half-Way Tree, and that same night, he will make the trek to Negril where he will perform at the Jungle nightclub. 
December 14

 sees him juggling three dates – in 

Montego Bay

 

and then later on in the night at 

Maldon High School

, before rounding out the night at the Iberostar Montego Bay staff party.
Then on December 16, it's Fort Clarence Beach in Portmore, a few days later he heads to Prospect, St Thomas. Boxing Day will see him at the Montego Bay Seafood Festival and more dates are to be added.
I-OCTANE – LOVE DI VIBES/JIGGLE FI MI – OFFICIAL VIDEO - 

[youtube width="640" height="344"]http://www.youtube.com/watch?v=iDyRVrEaVj4[/youtube]
The Life of I-Octane – Episode 5

[youtube width="640" height="344"]http://www.youtube.com/watch?v=L0OTXdxXmRs[/youtube]
real deal