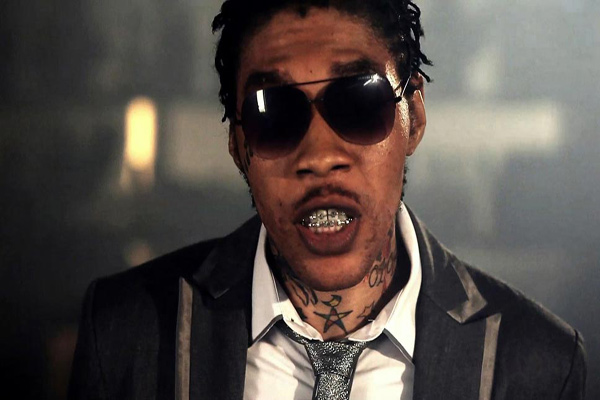 Yesterday  Vybz Kartel went to court again, and again,  his bail application couldn't go through.
The result is that he will have to spend more time behind bars. Vybz Kartel was brought again down to Gun Court Division for answer of murder, conspiracy to murder and gun possession but he was again remanded to custody since his lawyers, Tom and Chris Tavares Finson and Michael Deans, that also represents Shawn Storm , were forced to defer the bail application due to the lack of a witness statement.
Vybz Kartel will return to court the 26 of October. They kept him in court for 3 minutes. His lawyer told the press that his legal team couldn't apply for the artist's bail without first being served with a copy of the witness statement so before making the application for the bail they need to know what is contained in the statement the police is holding against Vybz Kartel.There's a document that Kartel's legal  team couldn't examine  yet and that is vital to the fate of this case, but they can't even establish if it exists so far.
"The defence went in court today expecting an indication as to whether or not the document that we have been hearing about, if it exists. If it exists it must be served on the defence but that document was not served and there was no indication whether or not it exists" as Vybz Kartel's lawyer puts it. 
Gaza & Kartel's supporters gathered first  outside the court, in the early am, and then moved outside The Half  Way Tree police station holding Vybz Kartel's images and calling out for his release. Meanwhile Teacha's Pet 4th episode was aired last night on Ja'can tv.
Shorty, Kartel's official wifey, was very sad that di world boss didn't yet obtain bail and she said she wasn't feeling good, obviously,
" but at the end of the day good things come to those who wait and at the end of the day him affi get bail "she stated.
Why they don't let him out on bail already? He doesn't even have a visa he can't run very far and it looks like they're extending his jail time, damaging his career and image, linking him to some serious stuff and not yet coming up with important documents so related to the case. Babylon is trying hard on Vybz Kartel, i feel for him and can't wait for this to be over and in a positive note.
Shorty Palmer, Vybz Kartel's Wife talk to the press

[youtube width="640" height="344"]http://www.youtube.com/watch?v=uan89sUtx6w[/youtube]
Vybz Kartel – Unruly

 

-

Snippet

[youtube width="640" height="344"]http://www.youtube.com/watch?v=D9Y4D6b6WRo[/youtube]
real deal