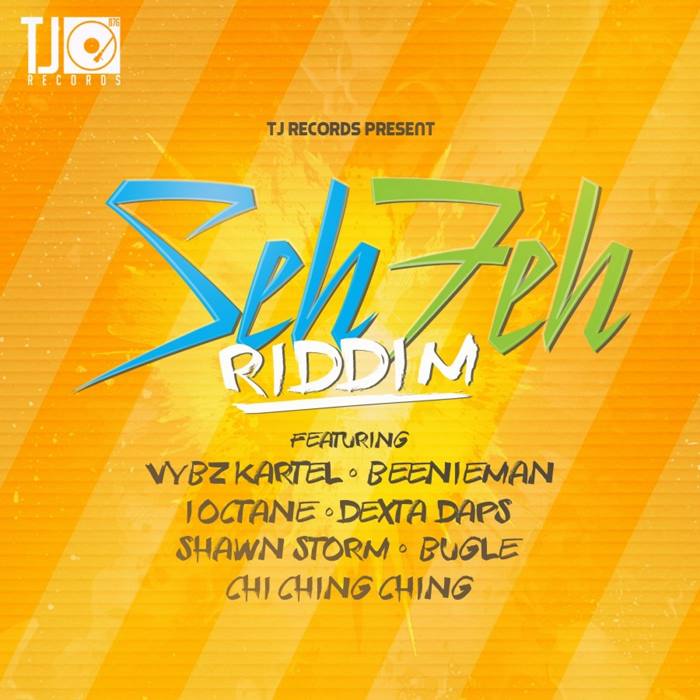 LINTON 'TJ' White from Jamaican music label  TJ Records 

has produced a number of hits for dancehall's elite, including Vybz Kartel, Bounty Killer, Beenie Man, Mavado,Popcaan and Buju Banton.
His latest project is titled Seh Feh 'riddim' which has songs by Beenie Man (Burning You), Bugle (Too Lie), Chi Ching Ching (Far Out) and Dexta Daps (Who Bad).
White is on a high following the success of Vybz Kartel's album Viking (Vybz is King), which he produced. It reached number two on the Billboard Reggae Album Chart; it is Kartel's best-selling album in the United States.
Incarcerated World Boss Vybz Kartel doubles up with two new dancehall songs on Seh Feh Riddim: Too Badmind & Lobster, both posted below.
Get the full Seh Feh Riddim on i-Tunes clicking on the banner on this page.
LISTEN TO VYBZ KARTEL – TOO BADMIND – SEH FEH RIDDIM
SEH FEH RIDDIM TRACK LIST
Vybz Kartel
– Lobster
Vybz Kartel
– Too Badmind
Beenie Man
– Burning You
I Octane
– Red Eye
Dexta Daps
– Who Bad [Clean]
Dexta Daps
– Who Bad [Raw]
Shawn Storm
– Wine [Raw]
Bugle
– Too Lie
Chi Ching Ching
– Farout
Flippa Mafia
– Enjoy Life
Besides the Seh Feh, TJ Records has released three singles: Before You Leave by Dexta Daps, Think About Me by Mavado, and My Life Belongs from Kartel.
White has tasted Billboard success before. His Unfinished Business riddim made the publication's R&B Hip Hop Songs Chart in 2009 with Serani's No Games and Mavado's So Special.
Seh Feh Riddim features two new songs from Dancehall Ace  Vybz Kartel -Too Badmind & Lobster, listen to both the new songs below.

LISTEN TO SEH FEH RIDDIM PROMO MIX FEATURING – VYBZ KARTEL SHAWN STORM BEENIE MAN BUGLE CHI CHING CHING I-OCTANE -TJ RECORDS – JULY 2015
real deal