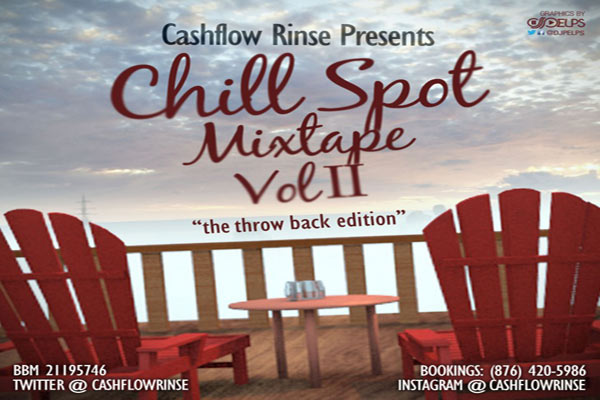 Let's catch up with Dj Rinse (Cashflow Rinse) and one of his last reggae dancehall mixtape, "Chill Spot Mixtape, Throw Back Edition" that was  released last month for  - Nu Roots Lovers -
This is another perfect reggae music mixtape from DJ Rinse that includes some real hot Jamaican reggae songs.
One of the reasons that makes this mixtape special is that this time instead than the latest hottest dancehall hits Dj Rinse plays some ever green classics hits from Vybz Kartel, Mavado, Konshens, Bugle, Serani, Busy Signal, I-Octane & many more Jamaican artists in a celebration of some of the hottest songs of few seasons ago.
This is another free mixtape coming out of Jamaica and brought to you by popular Dj & producer Cash Flow Rinse, available for both free stream in your browser of for download below.
DWNLD CHILL SPOT MIXTAPE – DJ RINSE
DJ RINSE(CASHFLOW RINSE) – CHILL SPOT MIX (THROW BACK EDITION)
DJ RINSE (CASHFLOW RINSE) – CHILL SPOT MIX (THROW BACK EDITION) TRACK LISTING
1.INTRO – ROMAIN VIRGO
2.BUGLE – EXERCISE
3.BUGLE – JOURNEY
4.VYBZ KARTEL – NAH GO HOLD WE DOWN
5.BUSY SIGNAL – THESE ARE THE DAYS
6.DEMARCO – FALLING SOLDIERS
7.MAVADO FT SERANI – DYING
8.MELLOQUENCE – ONLY JAHJAH (DUB)
9.KONSHENS – WINNER
10.VYBZ KARTEL – TRAIL A LOAD A MONEY
11.SERANI – STINKING RICH
12.SERANI FT MAVADO – MAMA
13.KONSHENS FT DELUS – MI MADDA
14.BUGLE – WHAT HAVE I DONE TO YOU
15.BUSY SIGNAL – NAAW GUH JAIL AGIAN
16.VYBZ KARTEL – LIFE SWEET
17.WASP – UNFAIR
18.MAVADO – DON'T WORRY
19.MAVADO – OVERCOME
20.LADEN – WORKING HARD
21.JAH VINCI – WIPE THOSE TEARS
22.LADEN – BAD BOYS
23.KONSHENS – RASTA IMPOSTER
24.CHINO FT DI GENIUS – PROTECTED
25.DEMARCO – TRUE FRIEND
26.DI GENIUS – CYAA FRIEND AGAIN
27.LADEN FT DI GENUIS – REMEMBER
28.BLACK RYNO – TAKE CONTROL
29.G WHIZZ – ON AND ON
30.KONSHENS – THE REALEST MEDZ
31.VYBZ KARTEL – LIFE WE LIVING
32.LADEN – HOLD THE FAITH
33.CHARLEY BLACK – RICH DIS YEAR
34.MR G – BEFORE THE YEAR DONE (WAAN RICH)
35.LADEN – TIME TO SHINE
36.TNEZ – TURN MI LIFE AROUND
37.MAVADO FT DI GENIUS – CAN'T TAKE WI LIFE
38.DEMARCO – STANDING SOLIDERS
39.MAVADO – CHANGE RIGHT NOW
40.TERRO 3000 – MY LIFE
41.VYBZ KARTEL – ME BIBLE DEH NEAR
42.BRAMMA FT DI GENIUS- SOME PEOPLE
43.KONSHENS – THIS MEANS MONEY
44.VYBZ KARTEL – DOLLAZ
45.BLACK RYNO – MONEY AFFI MEK
46.JAH VINCI – MONEY
47.VYBZ KARTEL – MAMA
48.BUSY SIGNAL – HUSTLING
49.VYBZ KARTEL – SELASSIE I LUV WE
50.LADEN – NEVER BOW PUT
51.VYBZ KARTEL FT DI GENIUS – CAREFUL
52.LADEN – NEVER DEPEND
53.T'NEZ – SAME YUTE
54.LADEN FT T'NEZ – FOR ALL MY FRIENDS
55.MAVADO – DEM ALONE
56.CHASE CROSS – BETTER DAYZ
57.MUNGA – WANT MONEY
58.STEIN – IS A WORK MI A LOOK
59.BOUNTY KILLER – RODNEY INTENTION
60.MAVADO – A SO YOU MOVE
61.MAVADO – STARLIGHT
62.MAVADO - SO BLESSES
63.OUTRO – DI GENIUS

real deal