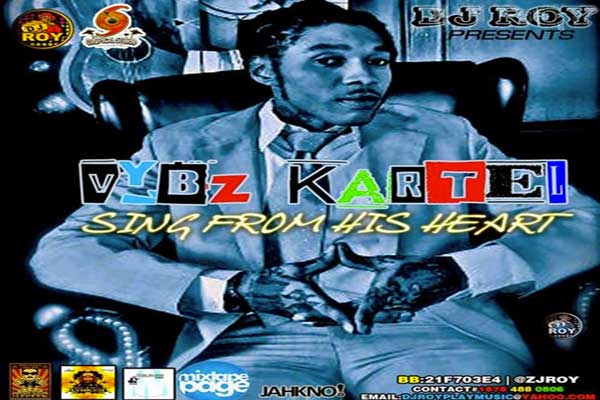 Vybz Kartel

's fans and especially the ladies will apreaciate a new reggae mixtape dedicated once again to World Boss Vybz Kartel.

DJ Roy mixtape  is titled -Vybz Kartel Sings From His Heart.
DJ Roy original project dropped few months ago but for licensing issues was not available in the US until it got uploaded on soundcloud recently. While this mixtape does not have a track list, it includes some of Addi sweetest love tunes and reggae songs voiced mostly on reggae riddims and DJ Roy does a great job  selecting and mixing some of the biggest melodic tunes Kartel's dropped during his stellar career.
DOWNLOAD FILE WAS REMOVED BUT YOU CAN STILL STREAM THE BEST VYBZ KARTEL REGGAE LOVE SONGS BELOW
Dj Roy' mixtape Vybz Kartel Sings From His He Heart is packed with KarteL's & Shawn Storm drops and  some of the very best classic, ever green, sweetest Vybz songs like "Poor People Land", "Baby Mother", "You Can't Say", "Baby Father","I'm Missing You A Lot", as well as duets with Gaza Slim and songs from Worl' Boss you probably never heard yet, showing the incredible talent and versatility of Addi The King. Irie.
DJ ROY PRESENTS VYBZ KARTEL SINGS FROM HIS HEART
real deal