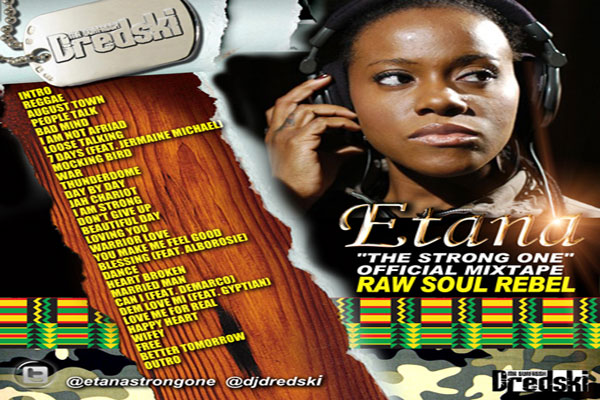 Considered one of the  best female reggae act in Jamaica, Etana The Strong One is cementing her place in her fan's hearts, dropping a free reggae mix featuring all her biggest songs.
Released about a week ago,
check out  Etana new mixtape – Raw Soul Rebel Official Mixtape, mixed by popular mixtape DJ Dredski aka Mr Evafresh.
Raw Soul Rebel Mixtape features all your favorite reggae tracks  old and new ones from Jamaican songstress Etana The Strong One and you will be lifted and empowered by the deep lyrics she delivers over powerful reggae riddims and melodies in this 30 tracks project!
ETANA – RAW SOUL REBEL MIXTAPE TRACKLIST
01  - Intro
02 - Reggae
03 - August Town
04 - People Talk
05 - Bad Mind
06 - I Am Not Afriad
07 - Loose Talking
08 - 7 Days (Feat. Jermaine Michael)
09 - Mocking Bird
10  - War
11  - Thunderdome
12  - Day By Day
13  - Jah Chariot
14 - I Am Strong
15  - Dont Give Up
16  - Beautiful Day
17  - Loving You
18 - Warrior Love
19  - You Make Me Feel Good
20  - Blessing (Feat. Alborosie)
21  - Dance
22 - Heart Broken
23 - Married Man
24 - Can I (Feat. Demarco)
25 - Dem Love Mi (Feat. Gyptian)
26 - Love Me For Real
27 - Happy Heart
28 - Wifey
29 - Free
30 - Better Tomorrow
While there's not a stream yet for the mixtape Check Etana & Alborosie Blessings – Official Video

real deal