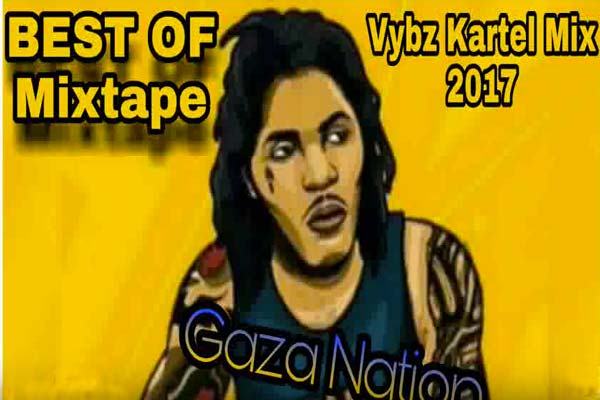 Fans of incarcerated Jamaican dancehall superstar World Boss Vybz Kartel can vibe to a new mixtape featuring all Kartel's new songs for 2017.
Brought to you by Dj Gazami Vybz Kartel Mix 2017 will keep you company for almost an hour sporting all the new releases of 2017 and some of the hottest dancehall hits of 2016.
From one of Vybz Kartel's latest dancehall reggae singles like "Fight" featuring Slimatic, "Poco Man Skank", "I've Been In Love With You", "Big Dreams", "Infrared" featuring Masicka, "What's Next", Cool & Deadly with "Kymani Marley" and a bunch of some other hottest jams released in 2016.
Dj Gazami – Vybz Kartel Mix 2017 – Gaza Nation [Best Of Mixtape] is streaming only.
Check the full track listing posted below with song titles and keep the faith for Kartel's to be soon out a road following his upcoming February 2018 appeal. #FreeWorldBoss #GazaNation
Listen To Vybz Kartel Mix 2017 – Gaza Nation [Best Of Mixtape] Latest Songs
DJ GAZAMI – VYBZ KARTEL MIX 2017 – TRACK LISTING
Vybz Kartel – Fight (Official Audio) ft. Slimatic
Vybz Kartel – Half Way Tree (H.W.T)
Vybz Kartel – Highest Level (Prod. By Rvssian)
Vybz Kartel – Closed Casket – January 2017
Vybz Kartel – Last One
Vybz Kartel – Big Dreams
Vybz Kartel – I_ve Been In Love With You
Vybz Kartel – Poco Man Skank (Explicit)
Vybz Kartel – BGF (Bad Gyal Fuck)
Vybz Kartel – Colouring This Life
Vybz Kartel – Love it
Vybz Kartel – Pressure
Vybz Kartel – So What (Raw) [Humbug Riddim]
Vybz Kartel – Round Corna -
Vybz Kartel – Step
Vybz Kartel ft Wiz Kid – Wine To Di Top – Feb 2017
Vybz Kartel – Masicka – Infrared (Official Audio)
Vybz Kartel – Xmas Time (Final Mix) [Marimba Riddim]
Vybz Kartel – XXXMAS
Vybz Kartel – What Next -
Vybz Kartel – Your Little Shorts
Vybz Kartel – Remember Me (Lyric Video)
Vybz Kartel – In Heaven
Vybz Kartel – Fall Ina Love
Vybz Kartel – Real Youth
Vybz Kartel – Protect Me -
Vybz Kartel – Number One -
Vybz Kartel – It Nuh Hard
Vybz Kartel – Fever -
Vybz Kartel – Electric -
Vybz Kartel – 9X-
Vybz Kartel – Hi -
Vybz Kartel – Pretty Little House
Vybz Kartel – Stop Follow Me Up -
Vybz Kartel – Do Di Maths (Wah Do You)
Vybz Kartel – New Jordans -
Vybz Kartel – Mercy -
Vybz Kartel – You Make Me Cry -
Vybz Kartel ft Ky-Mani Marley – Cool and Deadly
Vybz Kartel – Hold It – March 2017
real deal