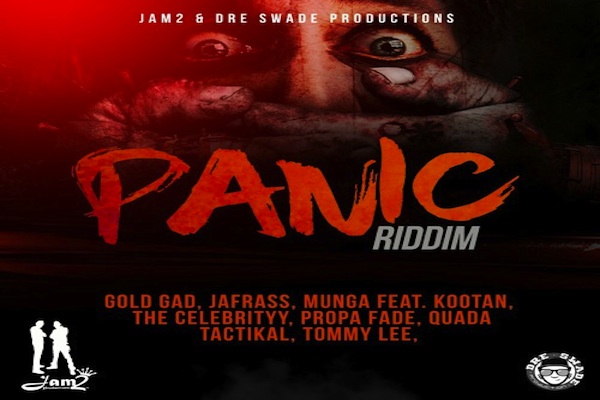 Check out a new dancehall riddim, titled Panic Riddim, produced by Jam2 & Dre Swade Productions and released during the current month of October 2017.
Panic Riddim is a riddim packed with gun tunes and very explicit.
Featuring Tommy Lee Sparta, as the headliner with the main song Panic,that gives also the title to the riddim, Panic riddim sports also gun songs from Ja Frass, Munga and Kootan, Propa fade, Gold Gad, Quada and Tacktical and latest addition to the riddim has been Unruly Jamaican star Popcaan.
Popcaan voices the new Mavado diss song Nuh Bwoy Can't Box, rumors around the new Poppi's song also known as Outside, that was added in a second time to the original riddim, are that some members of Popcaan's camp were physically assaulted by some of Mavado's people.
Panic riddim is charged wit dope new dancehall songs that will trend in dancehall music in the next months and marks a new explosive release in dancehall music, with Sparta's song Panic already dubbed as a new Alkaline diss.
This riddim will be especially pleasing the youngsters dancehall fans, featuring hard hitting songs and upcoming Jamaican dancehall artists making a name for themselves.
Play Panic Riddim mix below, get the promo download or buy the full Panic riddim or just your favorite song on it clicking on the iTunes banner on this page.

Make sure to check the full Panic riddim track listing with all the artists names and songs featured on this new top ranking dancehall jam.
LISTEN TO PANIC RIDDIM MIX OCTOBER 2017 – Jam2 & Dre Swade Productions
Listen To Popcaan – Nuh Bwoy Can't Box [ALKALINE MAVADO DISS] PANIC RIDDIM
PANIC RIDDIM TRACK LISTING
01 – Tommy Lee Sparta – Panic
02 – Jafrass – Kill Dem All Off
03 – Munga Ft.Kootan – Aim To Di Goal
04 – Gold Gad – Discrete
05 – Propa Fade – Hatti
06 – Quada – One Ting
07 – Tactikal – Militant
08 – Popcaan – Militant
Panic Riddim – Jam2 & Dre Swade Productions
real deal