SLY & ROBBIE PRESENTS: SHAGGY OUT OF MANY ONE MUSIC REGGAE DANCEHALL MIXTAPE SPORTING SOME OF THE BEST JAMAICAN MUSIC.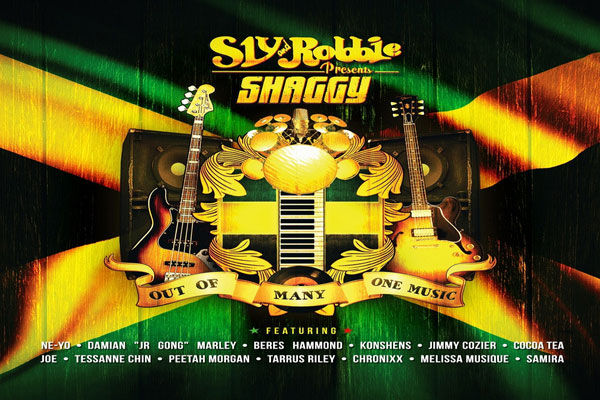 Multi-platinum Reggae/Dancehall artist Shaggy has teamed up with legendary producers Sly & Robbie to deliver his 12th studio album Out of Many One Music. The album dropped September 24th.
According to Shaggy, Out of Many One Music is not necessarily a new "Shaggy album" but rather a collaborative project. 
DWNLD SHAGGY MIXTAPE PROMO USE ONLY
Listen To Best of Shaggy Mix Hosted by Don Shaddy
"I've been criticized for years for not being authentic because of my pop success…People say I'm not this…I'm not that…Now I'm doing a Reggae album with the masters and people are saying its a game changer. The first 2 singles have already proven that to some extent! You be the judge on !" Shaggy says.
SLY & ROBBIE -SHAGGY OUT OF MANY ONE MUSIC MIXTAPE – TRACK LIST
01. If U Slip U Slide (You Could Be Mine)- SHAGGY  (feat. Melissa Musique)
02. Till I Kissed Ya – SHAGGY  (feat. Samira)
03. Like Never Before – SHAGGY  (feat. Cocoa Tea, Joe)
04. Fight This Feeling – SHAGGY  (feat. Beres Hammond)
05. All We Need Is Love - SHAGGY (feat. Konshens, Jimmy Cozier)
06. Money & Friends – SHAGGY
07. You Girl – SHAGGY (feat. Ne-Yo)
08.Deadly Love – SHAGGY  (feat. Peetah Morgan, Tessanne Chin)
09. My Duty – SHAGGY (feat. Tarrus Riley)
10. Crazy – SHAGGY (feat. Damian Marley, Chioma)
11. Bridges - SHAGGY  (feat. Chronixx)
12. Trouble Under Your Roof – SHAGGY
13. Scheming – SHAGGY 
real deal