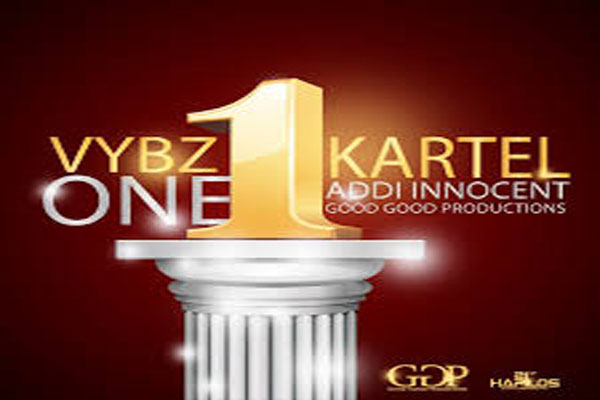 Fans of incarcerated Gaza General Vybz Kartel are cheering up because beside the man incarceration, every day there 's a new Vybz Kartel's hot music single that drops and this new song produced by Good Good Productions and titled One is no exception.
Incarcerated Jamaican dancehall King Vybz Kartel has a vast catalog of reggae dancehall hits for all the seasons and while is hard to pick among his many different hits songs, with this new release signed by renowned Jamaican music label Good Good Productions is one of World Boss biggest hits of 2014.
Posted below with the full lyrics Vybz Kartel new dancehall banger "One" is also destined to become one of the most samples songs by DJs worldwide.
The hypnotic One One One Kartel's refrain is destined to become a signature mark in dancehall music.
Support Worl Boss Vybz Kartel and Jamaican dancehall music purchasing the song on iTunes clicking on the banner on this page.
Listen to Vybz Kartel aka Addi Innocent One – Good Good Productions – June 2014

Vybz Kartel aka Addi Innocent – One – Lyrics
(Verse 1)
Alright, mi and gyal correspond
So mi aim fi the pu–y and mi never miss one
Gyal yo meck the dick stand
A da wine deh yo gimmi meck mi build a hit song
Pon the Gaza mi no kiss man
So no tun dung yah, better yo tun a christian
Haffi get a lawyer mi go a christian
Chris Gayle day mi a go Pakistan
But some a dem cyaa go the distance
If yo cyaa tek risk better get a wrist band
Cyaa defend it yo should a never diss man
The yo deh a station a seeking assistant
Jones Avenue to Lavistan
Wi a tek bwoy gyal yo know wi no respond
Chain down a gulf gyal a reminisce pon
Foreigner a fly dung him get the prettiest one
(Chorus)
One, one, one, one
(Verse 2)
Mi and gyal to time end
Mi no name Stacy
Mi couldn't have a boyfriend
Low mi spliff no my friend
So yo waan bun weed yo cyaa go buy blem
Da gyal deh a the national anthem
Cause when mi si yo mi stand at attention
Haffi go a Euro, get a shengong
Dis gaza yuh a go get a queng, queng
But the youths a the future protect dem
So no touch Dora, no bother trouble Ben 10
Bay big woman like Granny Gwen Gwen
Yow wine baby yuh a mi pretty friend, friend
Delavaga go to grands Pen
How easy wi tek weh a nigger gyal friend
How wi suh bad mi no know from when
Don't try follow me cause any problem
Don't try follow me cause any problem
Don't try follow me cause any problem
Don't try follow me cause any problem
real deal