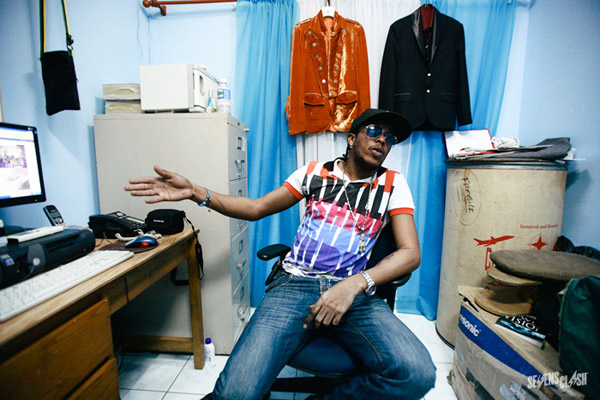 SevenClash

reached out and shared one of their latest interview to Calvin Moonie Haye,Vybz Kartel's official designer, stylist and and one-time booking agent for the embattled Gaza camp.
Moonie is one of the Vybz Kartel's co-accused for the alleged Clive 'Lizard' Williams murder and the only one currently on bail since last January.
After already linking withTommy Lee Sparta, this past summer and taking amazing pictures of Uncle Demon, SevenClash also linked and caught up with dancehall fashion designer Calvin 'Moonie' Haye at his studio in Kingston, Jamaica, delivering a long and detailed interview with incredible photos.
Before his name was linked to the latest events, Calvin Moonie Haye name was a signature in the dancehall world as a dancehall fashion stylist and shortly after he was released on bail this past January, four of his creations graced Reggae Sumfest stage this year, including the suit that earned Best Dressed honors for Specialist.
Moonie's creations will be also at the annual Boxing Day at Sting, "The Greatest One-Night Reggae Show on Earth,"  and he will be probably in charge of dressing more clients in the lineup like Tommy Lee Sparta. Haye also produced a couple of riddims and Sparta, Kartel, Bugle and others Top artists voiced on it.
Check out the article, interview and a bunch of photos clicking here 
Get A Sneek Peek here of the SevenClash-Calvin Moonie Haye Interview 
"Out of prison since January, Moonie is positive that he will be fully exonerated and continues to push ahead, undeterred.

Earlier this year at Reggae Sumfest he was named Best Designer for the night with four of his creations gracing the stage, including the "twin stripe" three-piece suit that earned Specialist Best Dressed honors.

Next up is Sting, the annual Boxing Day concert billed as "The Greatest One-Night Reggae Show on Earth," where fashion becomes pageantry as performance approaches the vaudevillian.

With many of his previous clients in the lineup and current Gaza torchbearer Tommy Lee headlining, we can be sure that Moonie's designs will feature prominently."
Watch Vybz Kartel's official music  video for – My Crew



real deal