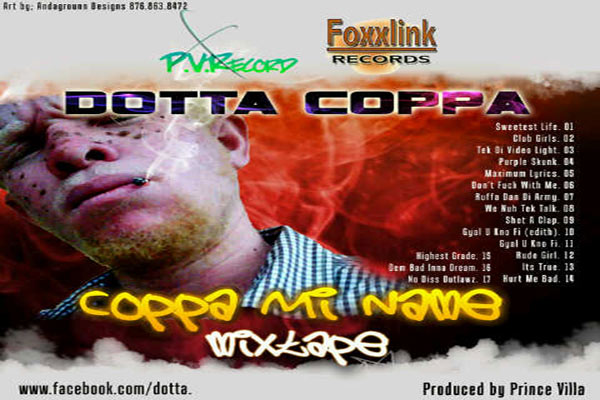 Upcoming Jamaican artist Dotta Coppa released his dancehall reggae mixtape Coppa Mi Name this past friday.
Produced by Prince Villa for FoxLink Records and PV Records it contains 17 tracks each with a different story and flavors for different tastes, catering to Dancehall, Reggae, Bashment, Hip Hop and contaminating the genres with his own style.
Download it here or click on the mixtape cover.

DWNLD DOTTA COPPA MIXTAPE COPPA MI NAME – 2012
STREAM COPPA MI NAME DANCEHALL MIXTAPE – FULL
The project broadcasts the young artist versatility and it includes new tunes, couple of old tunes as well as a couple of remixes too like the Highest Grade and Maximum Lyrics where the artist voices on the instrumental of – Look At Me Now – from Chris Brown. He literally kills it showing he can easily cross many styles!
Some Dotta Coppa tracks are an instant hit like Sweetest Life, Ruf Dan Di Army and Hurt Me Bad, others will build up on you like Tek Di Video, Light, and Don't Fuck With Me. Dotta Coppa is an artist to get familiar with. He's forward! Dotta Coppa dat!
Dotta Coppa Ft Dan Giovannie Nuh Diss Outlawz
Dotta Coppa – Sweetest Life Coppa Mi Name Mixtape
real deal