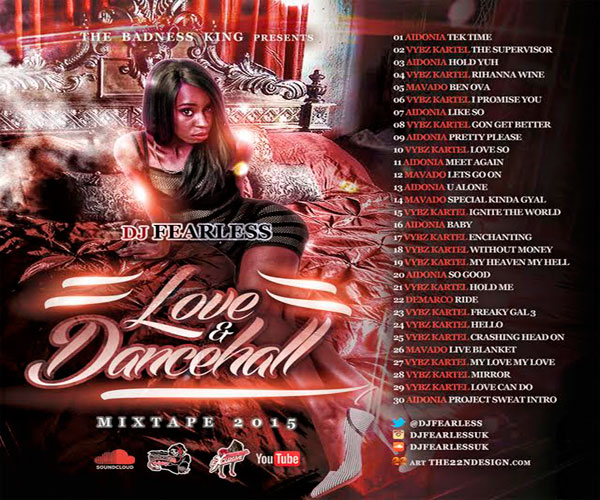 A new DJ FearLess dancehall mixtape which only has slow Dancehall music from Jamaican Dancehall Artists Aidonia, Vybz Kartel, Mavado & Demarco.
Listen or download below for free a new sensational music mix packed with some of the baddest love and sexy songs good for all year around.
Dj Fearless seh Aidonia's new EP called – Project Sweat – has inspired his latest mixtape, so look out for brand new Aidonia songs which are featured on the mix, as a threat from the one and only Fearless, the DJ that doesn't chat & never sleeps! Boom!
Listen /Download DJ FearLess Love & DanceHall Mixtape 2015
DWNLD Love & Dancehall Mobile Link
Listen To DJ FearLess – Love & Dancehall Mixtape
DJ FEARLESS – LOVE & DANCEHALL MIXTAPE TRACKLIST
1. Aidonia -Tek Time 2.
2.Vybz Kartel - The Supervisor
3. Aidonia – Hold Yuh
4. Vybz Kartel - Rihanna Wine
5. Mavado - Ben Ova
6. Vybz Kartel - I Promise You
7. Aidonia - Like So
8. Vybz Kartel - Gon Get Better
9. Aidonia - Pretty Please
10. Vybz Kartel - Love So
11. Aidonia - Meet Again
12. Mavado - Lets Go On
13. Aidonia - U Alone
14. Mavado - Special Kinda Gyal
15. Vybz Kartel - Ignite The World
16. Aidonia –
Baby
17. Vybz Kartel –
Enchanting
18. Vybz Kartel -
Without Money
19. Vybz Kartel -
My Heaven My Hell
20. Aidonia –
So Good
21. Vybz Kartel -
Hold Me
22. Demarco -
Ride
23. Vybz Kartel –
Freaky Gal 3
24. Vybz Kartel –
Hello
25. Vybz Kartel –
Crashing Head On
26. Mavado –
Live Blanket
27. Vybz Kartel –
My Love My Love
28. Vybz Kartel –
Mirror
29. Vybz Kartel –
Love Can Do
30. Aidonia
– Project Sweat Intro
real deal