Download another Dj Dain – The Remix King – project! Called Acapella Pack 2013 features some Krazy, Creaa-zy Acapella from your favorite Jamaican artists!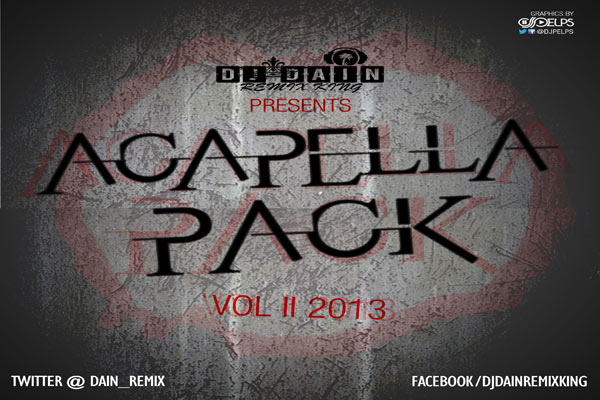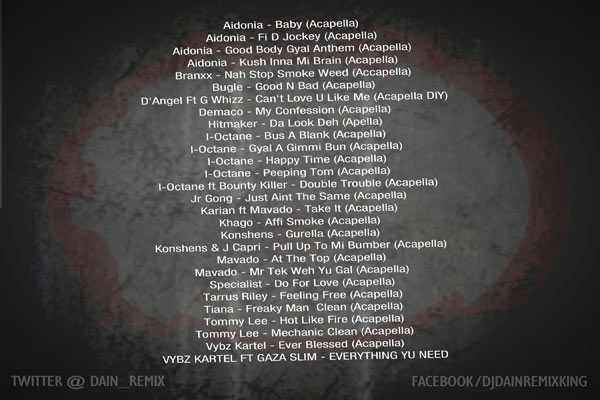 style="display:inline-block;width:180px;height:150px"
data-ad-client="ca-pub-5109320371512143"
data-ad-slot="8440946519">

Aidonia, Bran , Bugle, Demarco, I-Octane, Junior Gong, Karian Sang & Mavado,Specialist, Tarrus Riley,Konshens, Khago, Tiana, Tommy Lee, Vyzb Kartel & more reggae dancehall artists acappella mp3 free to download
Check the full track listing posted below. Zeen!
DOWNLOAD DJ DAIN ACAPELLA PACK 2013
TOMMY LEE SPARTA PUSSY MECHANIC ACAPELLA -DJ DAIN ACAPELLA PACK
TOMMY LEE SPARTA HOT LIKE FIRE ACAPELLA -DJ DAIN ACAPELLA PACK 2013
DJ DAIN ACAPELLA PACK 2013 -TRACK LISTING



Aidonia - Baby (Acapella)
Aidonia - Fi D Jockey (Acapella)
Aidonia - Good Body Gyal Anthem (Acapella)
Aidonia - Kush Inna Mi Brain (Acapella)
Branxx - Nah Stop Smoke Weed (Accapella)
Bugle - Good N Bad (Acapella)
D'Angel Ft G Whizz - Can't Love U Like Me (Acapella DIY)
Demarco - My Confession (Acapella)
Hitmaker - Da Look Deh (Apella)
I-Octane - Bus A Blank (Acapella)
I-Octane - Gyal A Gimmi Bun (Acapella)
I-Octane - Happy Time (Acapella)
I-Octane - Peeping Tom (Acapella)
I-Octane ft Bounty Killer - Double Trouble (Acapella)
Jr Gong - Just Aint The Same (Acapella)
Karian ft Mavado - Take It (Acapella)
Khago - Affi Smoke (Acapella)
Konshens - Guerilla (Acapella)
Konshens & J Capri - Pull Up To Mi Bumber (Acapella)
Mavado - At The Top (Acapella)
Mavado - Mr Tek Weh Yu Gal (Acapella)
Specialist - Do For Love (Acapella)
Tarrus Riley - Feeling Free (Acapella)
Tiana - Freaky Man  Clean (Acapella)
Tommy Lee - Hot Like Fire (Acapella)
Tommy Lee - Mechanic Clean (Acapella)
Vybz Kartel - Ever Blessed (Acapella)
Vybz Kartel FT Gaza Slim - Everything Yu Need
real deal