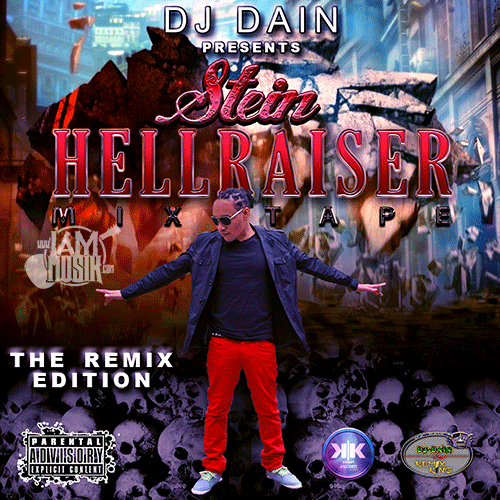 Dj Dain Remix King from Jamaica has a new free mixtape out with Dancehall artist Stein, called the HELLRAISER MIXTAPE!
Paired with an amazing digital cover, the free mixtape features some of the best and most played Stein songs, drops, dubs and shout out.
Stein's popular single HellRaiser, watch below the music video for the song, gives the title to DJ Dain mix, and while the streaming is not available at this time, the download link works perfectly and clicking on the button below you will able to download the full mix on your desktop, is in a compressed file so it's not suitable for most mobiles.
DOWNLOAD DJ DAIN – STEIN – HELLRAISER MIXAPE – NOV 2012
Watch Stein – Hellraiser – (Warfare Riddim – (Official Video)
DJ DAIN – STEIN – HELLRAISER MIXTAPE – TRACK LISTING NOV 2012
01 Intro
02 Stein – Hellraiser
03 Stein – Gun Down (Dj Dain Remix)
04 Stein – Kill Dem Easy (Dj Dain Remix)
05 Stein – Badman Straight (Dj Dain Remix)
06 Stein ft Bounty Killer – Tell Dem (Dj Dain Remix)
07 Stein – Speaks About Dancehall
08 Stein – I Believe (Dj Dain Remix)
09 Stein – Representing (Dj Dain Remix)
10 Stein – Money Friend (Dj Dain Remix)
11 Stein ft lil Flip & Lia – In Your Arms (Dj Dain Remix)
12 Stein ft Black eye Peas – Is This Love (Dj Dain Remix)
13 Stein – Please Her (Dj Dain Remix)
14 Stein – Top Gallis (Dj Dain Remix)
15 Stein – Easy (Dj Dain Remix)
16 Stein ft Ikonji – Badman Life (Dj Dain Remix)
17 Getting Bun Interlude
18 Stein – Nuh War Ova Gal (Dj Dain Remix)
19 Stein – Kill Himself (Dj Dain Remix)
20 Stein – Wine yu Waist (Dj Dain Remix)
21 Stein – Vias Buddy (Dj Dain Remix)
22 Stein – Wheel It Off (Dj Dain Remix)
23 Stein - Nah Give Up
24 Stein – Again And Again mix
25 Stein – Again And Again
26 Stein – Shell Down The party
27 Stein Ft Maroon 5 – One More Night (Remix)
real deal