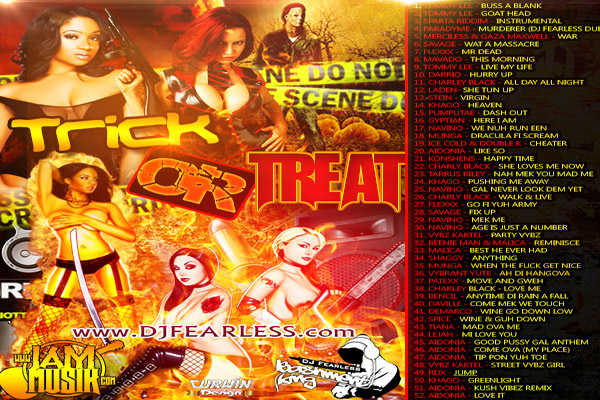 UK based  Dj Fearless released a new badness dancehall mixtape to add to your collection.
Titled -Trick Or Treat – the new mixtape came out last week just in perfect time for Halloween and  includes some of the baddest and latest Dancehall Riddims & Hits.
Stream this new dancehall mixtape non stop from Dj Fearless that will keep you company for more than an hour with the hottest dancehall hits and top Jamaican artists that are making Jamaica the rest of the world bounce and vibe right now.
Click the button below for full free download and check the full track listing with artists and songs names.
DWNLD DJ FEARLEASS TRICK OR TREAT MIXTAPE
STREAM DJ FEARLESS TRICK OR THREAT DANCEHALL MIXTAPE
DJ FearLess – Trick Or Treat – Mixtape Track Listing
1.

Tommy Lee –

Buss A Blank




2.

Tommy Lee –

Goat Head




3.

Sparta Riddim –

Instrumental




4.

Paradyme –

Murderer

(DJ FearLess Dubplate)


5.

Merciless & Gaza Maxwell –

War




6.

Savage –

Wat A Massacre




7.

Flexxx –

Mr Dead




8.

Mavado –

This Morning




9.

Tommy Lee –

Live My Life




10.

Darrio -

Hurry Up




11.

Charley Black -

All Day All Night




12.

Laden –

She Tun Up




13.

Stein –

Virgin




14.

Khago –

Heaven




15.

Pumputae -

Dash Out




16.

Gyptian –

Here I Am




17.

Navino –

We Nuh Run Een




18.

Munga –

Dracula Fi Scream




19.

Ice Cold & Double K –

Cheater




20.

Aidonia –

Like So




21.

Konshens –

Happy Time




22.

Charly Black -

She Loves Me Now




23.

Tarrus Riley –

Nah Mek You Mad Me




24.

Khago –

Pushing Me Away




25.

Navino –

Gal Never Look Dem Yet




26.

Charly Black –

Walk & Live
27.

Flexxx –

Go Fi Yuh Army

28.

Savage –

Fix Up

29.

Navino -

Mek Me

30.

Navino –

Age Is Just A Number

31.

Vybz Kartel -

Party Vybz

32.

Beenie Man & Malica -

Reminisce

33.

Malica –

Best He Ever Had

34.

Shaggy –

Anything

35.

Munga –

When The Fuck Get Nice

36.

Vybrant Yute –

Ah Di HangOva

37.

Patexx –

Move And Gweh

38.

Charley Black –

Love Me

39.

Bencil –

Anytime Di Rain A Fall

40.

Daville –

Come Mek We Touch

41.

Demarco –

Wine Go Down Low

42.

Spice –

Wine & Guh Down

43.

Tiana –

Mad Ova Me

44.

Lejah –

Mi Love You

45.

Aidonia –

Good Pussy Gal Anthem

46.

Aidonia –

Come Ova (My Place)

47.

Aidonia –

Tip Pon Yuh Toe

48.

Vybz Kartel -

Street Vybz Girl

49.

RDX –

Jump

50.

Khago –

Greenlight

51.

Aidonia –

Kush Vibez Remix

52.

Aidonia –

Love It

53.

Laden -

Wanna Fuck
real deal