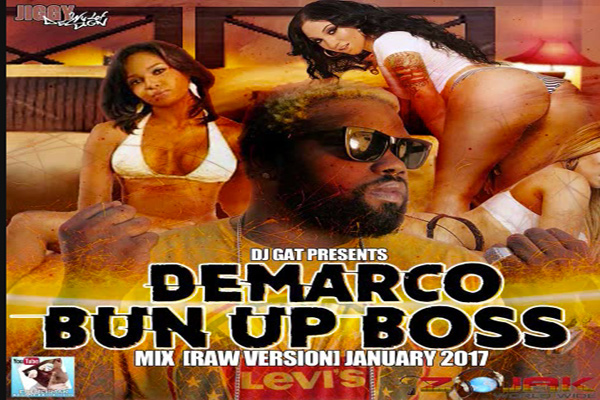 Jamaican dancehall reggae music at its finest with Demarco Da don mixtape for 2017.
Brought to you by Dj Gat and titled Demarco – The Bun Up Boss – this a new and exciting free dancehall reggae mixtape that features some of the latest hit bound singles from the Jamaican star.
Born Collin Demar Edwards, Demarco's fame grew quickly outside the borders of his native Jamrock. Delivering hits on hits during the years Demarco is a constant fix in dancehall music since 2007. He lately released a couple of hot collaborations with World Boss Vybz Kartel, featured in this mix, that celebrates Demarco's music.
A well balanced mix that features Demarco's latest collaborations songs with Beenie Man,Raytid & Bravo Ravers and Cyanide and different type of dope songs about money, sex, loyalty and beefs.
Check out Dj Gat Demarco Bun Up Boss track listing posted after the youtube full stream for the mix and if you like it download it for free in zip format following the link below. Bada Bada Bada! Big up Demarco!
DWNLS DJ GAT DEMARCO BUN U BOSS MIXTAPE 2017
DJ GAT DEMARCO THE BUN UP BOSS MIXTAPE RAW [DANCEHALL HITS  2017]
DJ GAT DEMARCO THE BUN UP BOSS MIXTAPE RAW TRACK LISTING
[REGGAE DANCEHALL MUSIC 2017]
00:17 : Demarco – Bun Up Road
00:20 : DEMARCO FT BEENIE MAN – GHETTO YOUTH FLOSS
00:27 : DEMARCO – WHO THE FUCK CARES
00:28 : DEMARCO – CHEERS
00:30 : DEMARCO – HOT WINGS
00:32 :  DEMARCO-LAZY BODY
00:34 : DEMARCO – PUPPY TAIL
00:35 : Demarco – Backaz
00:37 : Demarco – Walking Dead
00:39 : DEMARCO – DEM FRAID
00:41 : VYBZ KARTEL FT DEMARCO & KEDA – MIRACLE
00:42 : DEMARCO – WE RUN THE WORLD [MAVADO & ALKALINE DISS]
00:44 : Demarco – Watch Deh
00:46 : Demarco – Happy Fi Yuh
00:47 : DEMARCO – REMIX
00:49 : Demarco – What a Blessing
00:49 : DEMARCO – CELEBRATE MY LIFE
00:51 : DEMARCO – DUPPY DEM
00:51 : DEMARCO – NUH BADMAN FI WE
00:54 : Demarco ft. Raytid & Bravo Ravers – Holiday Again
00:55 : Demarco – Yuh Find It
00:58 : DEMARCO – WAP DEM
00:58 : DEMARCO – SO WE STAY
01:00 : DEMARCO – DEM 2 HAND YA
01:03 : Demarco – Case
01:05 : Demarco – Get Money
01:06 : DEMARCO/CYANIDE – WATCH THE MONEY
01:09 : Demarco – The Party Wild
01:10 : Demarco – B Day
01:12 : Demarco – Nuh Response
01:13 : Demarco – Feisty
01:15 : Demarco – Demarco – Neva (Straight)
01:16 : Demarco – Drunk Love
01:18 : Demarco – Nah Sell Out
01:20 : DEMARCO – BLEACH WITH THE GUN
01:21 : Demarco – Wild Bwoy
real deal