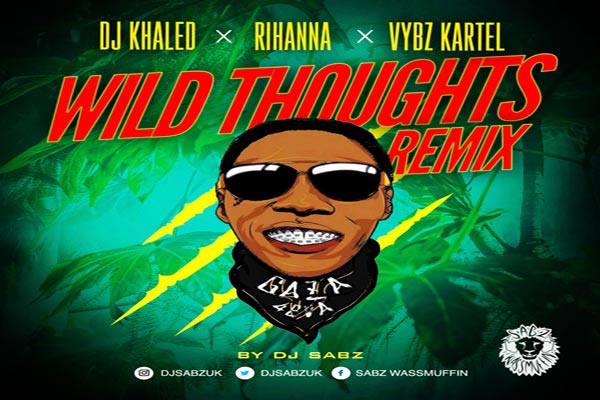 Dancehall hip hop music lovers cheer up and tune into a new super dope remix to lit you Summer 2017.
Dj Sabs just released a new slamming remix featuring DJ Khaled, incarcerated Jamaican superstar Vybz Kartel and Rhianna herself, titled Wild Thoughts
WHILE EVERY DAY A DEEJAY MAY DROP A NEW KARTEL'S REMIX NOT EVERY ONE MAKES THE CUT.
No need to say DJ Sabs Wild Thoughts remix is super fresh, well done and available below for free stream or free download.
Another massive mainstream tribute to World Boss Vybz Kartel that is getting ready for his upcoming appeal on February 2018. 
Incarcerated but never silenced Gaza General Vybz Kartel, real name Adidja Azim Palmer, has now been behind bars since the end of 2011 and was sentenced to life behind bars without parole for the murder of Clive Lizard Williams together with 3 co-accused, including Jamaican recording artist Shawn Storm Siva.
Vybz Kartel has always proclaimed his innocence and while his music has been reaching the 4 corners of the world his biggest battle to come is the one for his freedom.
DWNLD DJ SABS WILD THOUGHTS REMIX FJ KHALED VYBZ KARTEL RHIANNA
LISTEN AND DOWNLOAD DJ SAB WILD THOUGHTS REMIX FEATURING DJ  KHALED VYBZ KARTEL RHIANNA
CONNECT WITH DJ SABZ | WASSMUFFIN SOUND SYSTEM
Facebook: Sabz Wassmuffin Bournemouth & Wassmuffin Sound System
Email: sabz.ent@gmail.com | sabz@wassmuffin.com
real deal