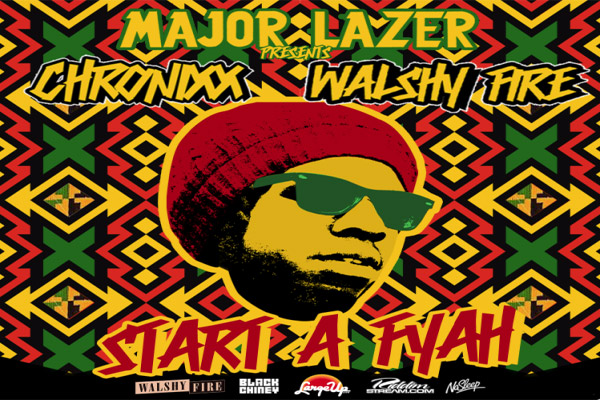 Major Lazer Presents: Chronixx & Walshy Fire "Start A Fyah Free Reggae Mixtape".
Raising artist Chronixx has been voicing on several hot riddims and has several nice singles out right now. Check out his mixtape, brought to you by Walshy Fire & Major Lazer - Start A Fyah Mixtape, named after one of Chronixx's single that he recently voiced on the  - Game Theory Riddim – Jungle Josh Records.
Start A Fyah Mixtape will introduce Chronixx's music to those that are hearing him for the first time and will please the fans that are already familiar with his music full of vibes.
Stream Or Download – Walshy Fire – Chronixx – Start A Fyah Free Reggae Mixtape 
Walshy Fire – Chronixx – Start A Fyah Mixtape – Track Listing
1. Start A Fyah 
2. Warrior 3:44 
3. Modern Warfare 6:32 
4 Take it Easy Freestyle (Major Lazer) 10:19 
5 Odd Ras Remix (Major Lazer) 13:15 
6 ZJ Liquid Skit- Behind Curtain/Medly (Major Lazer) 17:11 
7 When I see you 20:09 
8 Ex 24:00 
9 I am Chronixx 25:57 
10 Stepping Hard 27:43 
11 Chronixx Speaks/Perfect Tree 29:46 
12 Plant it 34:32 
13 Somewhere 36:00 
14 Capatilist 38:34 
15 No Love For You Freestyle (Major Lazer) 
16 Free 43:30 
17 Beat & A Mic 46:56 
18 Rain Music 47:52 
19 Di Youth Dem (Major Lazer) 51:00 
20 Artchibella Freestyle (Major lazer) 55:00 
21 Chronixx Speaks/They Dont know 58:10 
22 Get Free Freestyle (Major Lazer) 1:03


real deal