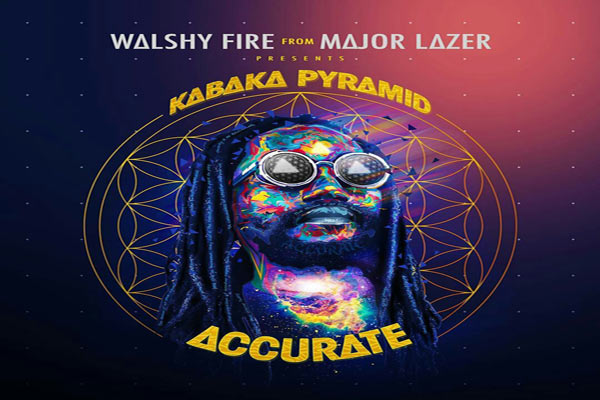 International DJ & producer Walshy Fire from Major Lazer brings to you a new blazing reggae mixtape featuring Jamaican Reggae Revival artist Kabaka Pyramid.
Stream or download for free,a new reggae mixtape in mp3 format, featuring some of the best songs from recording reggae artist Kabaka, the mixtape features collaborative songs with Chronixx, Raekwon from Wu Tang Clan, a freestyle with Protoje and Hempress Sativa plus Koro Fyah and Pressure.
Packed with sweet and conscious reggae songs that quickly became Kabaka Pyramid's signature, included on his official mixtape – Accurate – are also several exclusive freestyles and remixes one with Dre Island.
Check Kabaka Pyramid's Accurate mix and the track listing below and be ready to vibe and sing along to one of the best reggae mixtape of Summer 2016.
Walshy Fire From Major Lazer Presents: Kabaka Pyramid – Accurate Mixtape 
Kabaka Pyramid – Accurate Mixtape Track Listing
1. Intro (Stalag Riddim)
2. Kabaka Pyramid - Help me Jah – Prod. Gully Cat/Walshy Fire/Jr Blender
3. Kabaka Pyramid - Too Much Sweet (Freestyle)
4. Kabaka Pyramid - Interlude (Banky Hype)
5. Kabaka Pyramid - Lyrical Anamoly ft. Chronixx – Prod. Kickraux/Walshy Fire/Ollie Bare Noiz
6. Interlude (Banky Hype)
7. Kabaka Pyramid - King Kabaka (Dipset Anthem remix)
8. Kabaka Pyramid - Panda (Freestyle)
9. Interlude (Banky Hype)
10. Kabaka Pyramid - Kabaka Vs. Pyramid (Gimmie the loot)
11. Kabaka Pyramid Be Inspired w. Raekwon – Prod. Winta James
12. Kabaka Pyramid - All for One ft. Protoje, Hempress Sativa, Koro Fyah, Pressure (Freestyle)
13. Kabaka Pyramid - Lock Down D Place – Prod. Purple Skunkz

14. Kabaka Pyramid – No Guns Round Here – Prod. Dj Karim
15. Kabaka Pyramid - Dubplate Medley (Broad Board Riddim)
16. Interlude
17. Kabaka Pyramid - Prophecies – Prod. Riga/Walshy Fire
18. Kabaka Pyramid - Too Long – Prod. Notis
19. Kabaka Pyramid - Herb Defenda – Prod. Growilla
20. Kabaka Pyramid - Stepping outta Babylon – Prod. Curtis Lynch
21. Kabaka Pyramid - For the Children ft. Jahdan Blakkamore (Dubplate) – Prod. Lustre Kings
22. Kabaka Pyramid - Wake up and See – Prod. Chimney Rec
23. Kabaka Pyramid - Your'e a Queen – Prod. One Army Ent
24. Kabaka Pyramid - Waiting in Vain (Waiting for you Remix)
25. Kabaka Pyramid - Working Hard ft. Dre Island – Prod. Union World Music
26. Kabaka Pyramid - Wave ft. Kali Uchis – Prod. Major Lazer

real deal