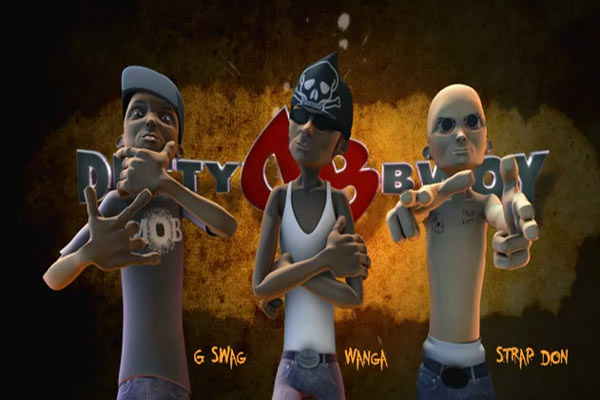 Finally, in Dutty Bwoy – Episode 6 "Return Of The Gaza Man" - guest starring World Boss Vybz Kartel – is out, featuring Jamaican fictional 3d animation characters G Swag, Wanga & Strap Don!
Mental Chung, the talented creator of Dutty Bwoy, already a winner at last year  Reggae Film Festival, just released the highly anticipate episode #6 of the popular animated series Dutty Bwoy.
This episode is called – Return of the Gaza Man and focuses on The World Boss Vybz Kartel. This time Addi, looking super pale for his bleaching habits, gets out of jail and try to take over on di Gully God. Maaad tunes and mad funny.
Dutty Bwoy is a Jamaican animated series based onJamaican Dancehall and music culture that centers around the three main characters of:

Strap Don, Wanga & G Swag

and their adventures around Dancehall artists such as Bounty Killer, Beenie Man, Vybz Kartel, Mavado and more.
Enjoy a couple of episodes of  Mental Chung's Dutty Bwoy below.
Dutty Bwoy Episode # 5 Gully Takeover 
Dutty Bwoy Episode # 6 Return Of The Gaza Man
real deal