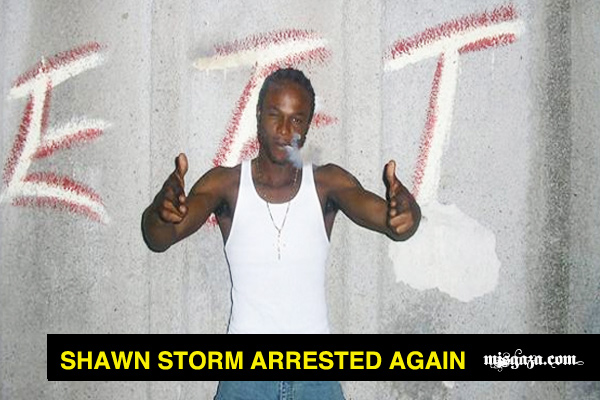 Portmore Empire sing-jay, Shawn Campbell, aka Shawn Storm, is back behind bars for the second time in just over a week.
He is once again in police custody after being summoned by the Constant Spring Police on Tuesday.

This comes just over a week after Shawn Storm turned himself in after being named a person of interest by Portmore Police.
He was questioned by law enforcement officials and released two days later. Shawn Storm immediately turned himself in to the police again, although, similar to his prior encounter with the law, reasoning regarding his visit to the Constant Spring Police station remains unclear.
Crazy rumors,  that we can't confirm, are buzzing  and going in multiple directions right now so we  stick to his lawyer, Michael Deans ,words that said his client was questioned by police again on Tuesday, but has yet to be charged.
Additionally, Deans intimated that Shawn Storm has no knowledge of any alleged wrong doing that may have occurred. Shawn Storm's second arrest came  following the announcement that his long-time mentor, Vybz Kartel, was slapped with a second murder charge in connection with the killing of Clive "Lizard" Williams in Havendale, St. Andrew. Kartel was already charged with murder, conspiracy to murder and illegal possession of a firearm in relation to the shooting death of Barrington "Bossie" Burton.
Meanwhile, Portmore Empire Road Manager/fashion designer, Calvin "Moony" Haye, was also charged with the August 16, 2011, murder of Clive Williams (aka 'Lizard'). Vybz Kartel and another member of his entourage, Kiro Jones aka 'Ray Jones', were also charged with this murder earlier in the week.
Kartel's recent legal troubles didn't discourage the pubblishers of his upcoming book Voice of the Jamaican  Ghetto: A Social Commentary For My People. The publishers of Kartel's book have decided that they are going ahead with the release of his book in time for the Christmas holidays.
Watch Vybz Kartel Ft Popcaan, Shawn Storm & Gaza Slim – Empire Forever Official Music Video
JAMAICAN MUSIC NEWS VYBZ KARTEL BOOKING AGENT CHARGED WITH MURDER
real deal