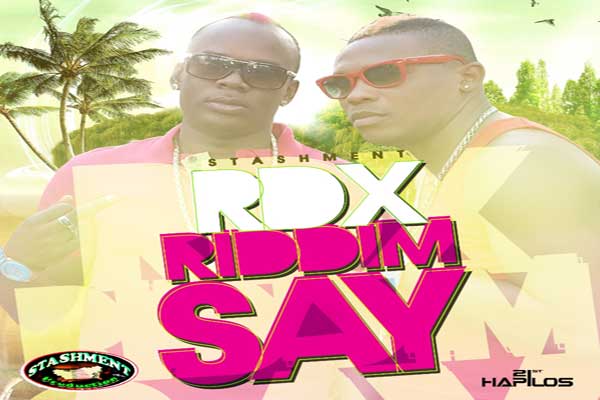 Ladies favorite dancehall dynamic duo RDX is well known for commanding the dancehall floor with a slew of number 1 hits.
On their latest "Riddim Say" the vigorous pair direct the ladies "All girls, do wa the riddim tell yuh fi do The bass line tell yuh fi do, The drum dem tell yuh fi do."
Produced By Stashment Production is distributed by 21st Hapilos Digital and available on< on iTunes clicking on the banner on top.
LISTEN TO RDX RIDDIM SAY – STASHMENT PRODUCTION – SEPT 2014

RDX are also reflecting on their role as dancehall artists and what Dancehall Music means to them.
Though both
Reggae and Dancehall Music
are referred to as
Jamaican Music;
often times the genre of
Dancehall
has been compared to that of Reggae music in an unfavorable light.
Reggae Dancehall duo RDX has taken a stand to defend the genre in their latest single 'Dancehall', which was produced by Apartment 19 Music.
The Duo, in the lyrics of the song, encourages fellow dancehall artistes to give total respect to the genre as it provides their 'bread and butter'; if they refuse to take it seriously then others will take advantage, this was expressed in one section of the song:
'Artist who take money and don't turn up, Dancehall reputation they burn up,

While some man a take this for circus, Reggeaton took it made money surplus,'
The duo tackled other serious industry business in the song as well. Including Dancehall receiving limited play on mainstream European platforms including radio and mentioning those who demote 'Dancehall as a method of promoting Reggae music instead.
"The negatives of Dancehall is what is oftentimes glorified. Not only by people who don't eat from the Dancehall pot, but more importantly from those who actually do" Renigade reasoned.
RDX – DANCEHALL- AUGUST  2014
'"Reggae artists always say "sweet Reggae" etc. We as Dancehall people mus' follow that example and talk good about what feeds us, because talking bad bout a co-worker affects the harmony of the entire company" Delomar added.
'The Duo believes society at large, coupled with the insinuating voice of the media has created a negative stigma for Dancehall music, sensationalizing issues faced by the Dancehall community and actions of individual artistes. All these practices are doing more harm than good and need to stop in order for Dancehall to prosper on an international scale.
'RDX also highlighted the positives of the genre by mentioning the works and worth of some of Jamaica's legendary dancehall icons such as Yellowman and Shabba Ranks who have earlier paved the way globally.
'The Duo recently completed a month long Canadian and US 'Lose Yourself' tour, and are now also getting ready to release their 'Soul Poetry' Reggae Album and will use this project to dispel some myths of how Reggae Artistes are expected to appear.
real deal