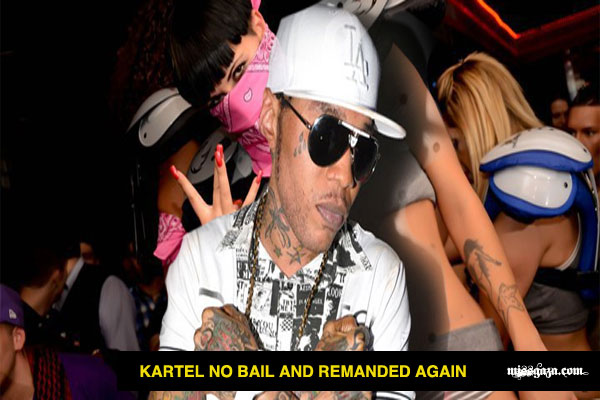 Supreme Court judge Leighton Pusey ordered that Vybz Kartel and the others with whom he is charged return to court on January 13 next year, crushing the hope of seeing him out on bail on time for Xmas and Boxing Day.
Vybz Kartel was remanded in the Home Circuit Court today in relation to the Clive "Lizard" Williams murder case.
What is called a voluntary bill of indictment was served for the case against them to be transferred to the higher court today. There are two more men co-accused, Andre St John and Sean Williams, but they will be heard separately on Wednesday and their names  were not included in the list of those be transferred.
Vybz Kartel is on again Dec 21 for  the other murder charges and also on Feb 13 for the ganja posesssion charges. 
Adidja Palmeris accused of double murder, conspiracy to murder, illegal possession of a firearm and possession of ganja. Attorney at law Valerie Neita-Robertson, part of the defense team, complained that the crown did not inform the defense of its plan to have the case moved to circuit court.
The defense had plans for a  bail application: Vybz Kartel and his co-accused have been in custody since October. Magistrate Justice Pusey ordered the crown to provide the defence with copies of statements and video recordings allegedly linking the men to the killing before 2 o' clock tomorrow afternoon and to turn over all material in its possession to the defence before 4 o'clock on January 5 next year.
Meanwhile the new case against Vybz Kartel and Gaza Slim also went down and they were both remanded again this morning, when they  both appeared in the Corporate Area Resident Magistrate's Court.
Judith Pusey, the senior magistrate in charge for the case, denied bail and remanded them both until January 9. The same magistrate also asked to see the alleged texts messages between di World Boss and Gaza Slim that led to both being charged for attempting to pervert the course of justice.
LISTEN TO – VYBZ KARTEL – BAD LIKE WE



real deal