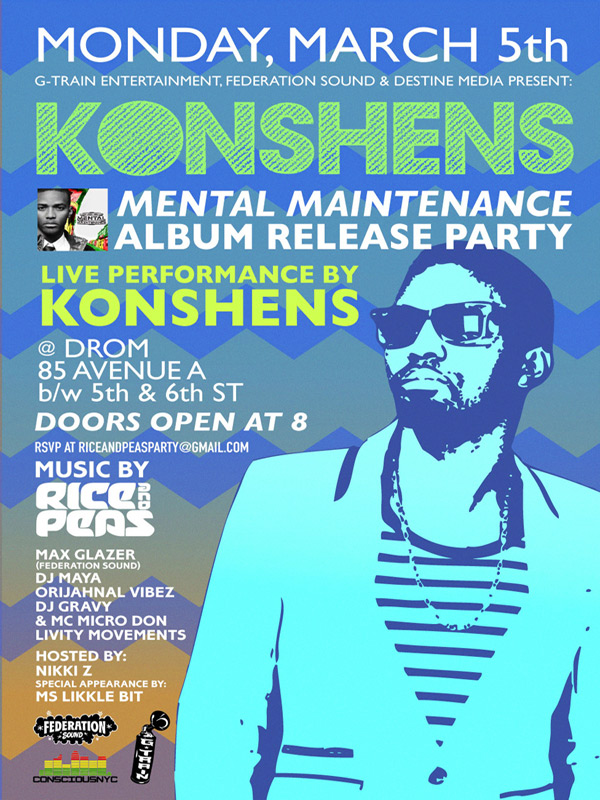 Jamaican Dancehall Artist Konshens will be heading to New York on Sunday March 4th for a whirlwind press junket and host of album release parties, which will begin in Brooklyn, NY at Buzz Night Club with Hot97 Bobby Konders and Jabba.
On Tuesday, March 5th Konshens will countdown the in store release of his worldwide debut album, Mental Maintenance, with his fans, press and media at the monthly Rice and Peas event to be held at Drom NYC.
Then he gears up for Mystic Night Club in Bronx, NY on Wednesday, March 7th with Platinum Kids.During this promotional run in New York to promote his album Konshens will conduct radio, print and television interviews, make appearances and do a few performances in the Tri-state area. Konshens is slated to appear on radio stations such as Sirius Satellite Radio, WBLS 107.5FM, Irie Jam Radio 93.5FM, Hot 97 (NYC), Hot 97 (Boston) RoadBlock Radio (New Jersey) and others. Immediately leaving New York, Konshens kicks off the West Coast portion of his Mental Maintenance Tour.
Here Konshens Tour Dates during March 2012 .
March 9th, Fairfax, CA
March 10th, Los Angeles, CA
March 11th, San Diego,CA
March 16th,Humboldt, CA
March 17th, Oakland CA
March 20th, Seattle, WA
March 23rd Trinidad and Tobago
March 24th, Minnnesota, MN
Konshens – Bun Satan- Drum Corps Riddim





KONSHENS – TOUCH BACK AGAIN – RESET RIDDIM
real deal