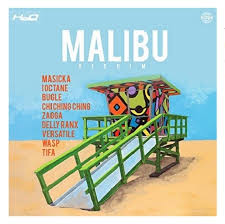 One of the freshest dancehall reggae riddim of this summer 2017 is called Malibu riddim produced by H20 Records.
Featuring some popular Jamaican dancehall reggae artists of our time this riddim was just released few days ago and it's getting very popular.

MALIBU RIDDIM H20 RECORDS / ZJ LIQUID
From last week's Malibu Riddim we have songs that just have to be played late afternoon on the beach.
"Gi U Likkle" by Tifa, "Don Status" by I Octane, "People" by Bugle, and "Tic Tok Tic" by Delly Ranks are perfect to get you in the mood to dance for the pre beach party.
Featuring more topping Jamaican dancehall reggae artists like Christopher Martin, Zagga,Versatile, Wasp, check the full Malibu riddim track listing posted below and vibe with all the dope songs and artists featured on Zj Liquid's new hot Riddim.

All the songs are produced by H2O Records and distributed by JWONDER21 Digital Distributions, each can be downloaded individually on all major outlets such as iTunes clicking on the banner on this page.
Malibu Riddim ZJ Liquid Various Artists – H20 RECORDS – JULY 2017
Malibu Riddim Track Listing
Wasp – Date with Money
I Octane – Don Status`
Tifa – Gi u Likkle
Zagga – No Face No Case
Bugle – People
Chi Ching Ching – Ring pon it
Delly Ranx – Tic a Tok Tic
Malibu Riddim – H2O Records
real deal