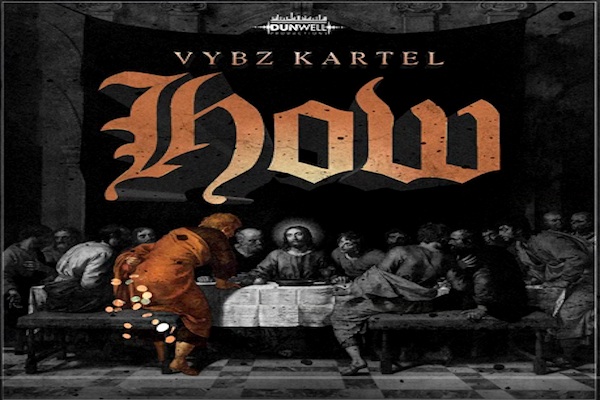 Vybz Kartel. The man of the hour, The artist of the year, the 1 Don of dancehall music has a new banger hitting hard titled How and produced by Dunwell Production.
The popular Jamaican music label signed already many Vybz Kartel's hit singles and this is no exception, so expect this new Kartel's jam to get real popular in no time.
In "How" Vybz Kartel address once again the pressing theme of traitors and judas, so much the symbolic cover of the single is Christ's last dinner.
Bad minding your friends, betraying them, letting them down is bad mind thing listen up to the Worl Boss, sing along the new Gaza General's anthem with the lyrics posted after the audio clip.
Vybz Kartel. a household name in dancehall music, beside his long incarceration, is one of the pillars of contemporary dancehall music and culture. Popular US rapper Cardi B went to Jamaica specifically to team up with one of Kartel's producers Rvssian, because after expressing Kartel is one her ever favorite artist she linked up with Rvssian to record some music featuring also Addi. Just a recent example of how popular Kartel's music is becoming and will become in the future.
Listen To Vybz Kartel – How (Official Audio) Dunwell Production
VYBZ KARTEL HOW LYRICS DUNWELL PRODUCTION NOVEMBER 2017
[Intro]
Yuh pussyclaat, yuh bloodclaat
Aye Dunwell! (Pussyclaat rassclaat)
Some bwoy naa move so well
[Bridge]
How you fi badmind yuh fren?
Weh di bloodclaat do dem
Weh di bloodclaat do dem
Cut dem off like Gillette
How you fi badmind yuh fren
Unnuh fi move an' gweh
Gi dem a spinnaz wid six shot
Fi Russian Roulette
[Chorus]
Bout yuh rate me, yuh nuh rate me
Talk yaa talk
But mi naa hear nun
Jus blah blah blah blah blah blah blah
Unnuh cyah stop me
Stop light pon green
An' mi heart is clean
But mi thugs dem mean
[Verse 1]
Nuh fuck wid me, dis is no love affair
Grudge me fi my gyal, pussy sell everywhere
Yuh vex wid yuh fren true him buy a bike
Wait til di black Beemer touch down like NFL
Judas! By di time yuh say "Ah who dat?"
Bat fly gone ah Cuba
Wah time now? Muller
Time fi yuh stop watch man
Give thanks fi weh you have
Red eye wul blind yuh
Or mek man whine yuh
real deal