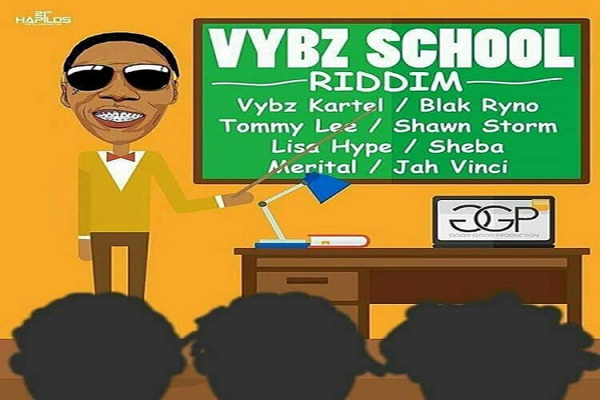 Producer Zum of Good Good Productions released Vybz School Riddim, a reggae dancehall hot riddim that features a lot of Vybz Kartel's disbanded Portmore Empire artists.
He says he wanted to do this project to reminds fans of reggae & dancehall music of the incredible contribution Gaza gave to Jamaican Music.
"I wanted something different because everybody been going in the same direction," Zum said. "It's been awhile since people heard the Gaza family, so mi decide to mek dem reunite and done."
The latest riddim coming out of Jamaica sporting a new Vybz Kartel's song – Big Dreams, listen here, features also songs from Blak Ryno, Merital Family, Tommy Lee, Lisa Hype, Sheba and Jah Vinci.
Dancehall fans and Portmore Empire nostalgic will especially love and enjoy Vybz School Riddim, that brings back the whole Empire vibe, based on Kartel in his typical Teacha stance and the Empire artists as students, both the concept and the final product are amazing, listen to the medley below.
VYBZ SCHOOL RIDDIMI IS ALREADY AVAILABLE ON ITUNE, CLICK ON THE BANNER TO BUY YOU FAVORITE SONG OR THE WHOLE RIDDIM.

LISTEN TO VYBZ SCHOOL RIDDIM MIX FEAT KARTEL & PORTMORE EMPIRE
While a lot of former members of
Gaza Portmore Empire are voicing on Vybz School Riddim, missing in action are Popcaan, Gaza Slim and Deva Brat.
Zum says that Popcaan was being difficult about voicing on the riddim, while Portmore Empire founding member Deva Brat couldn't be reached.
"I never got through to Deva Bratt, and Popcaan was being difficult, so I will leave it as that,I know this will be special because from mi post it online, the feedback has been very good, and mi not even drop the rhythm yet."
VYBZ SCHOOL RIDDIM – TRACK LIST
01 – Vybz Kartel – Big Dreams
02 – Jah Vinci – Nuh Trust Friend
03 – Blak Ryno – Go Hard
04 – Tommy Lee – Anything A Anything
05 – Shawn Storm – Dem Fraid
06 – Lisa Hype – 21 To 1
07 – Sheeba – One Whine
08 – Merital – Protect My Steps
real deal