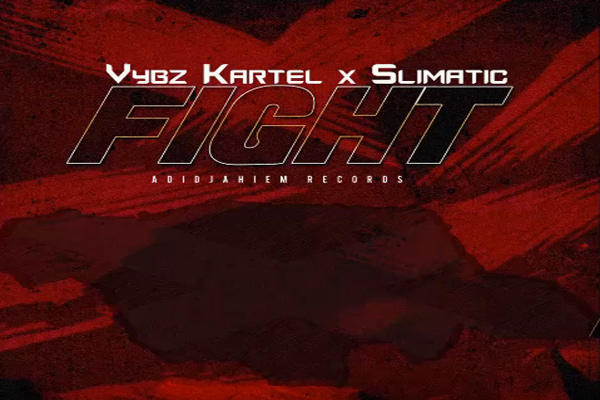 Listen to a new dancehall music single from incarcerated dancehall star Vybz Kartel titled  -Fight – and featuring the young and super fresh  new Gaza rising star Slimatic.
Produced by Kartel's own music label – Adidjahiem Records, in his new song Kartel looks up to the future deejaying that
things will soon be all right, don't give up the fight, smile when the sun rise, don't give up the fight.
Fight is a duet with recording Jamaican female artist Slimatic, the young dancehall artist deejays about World Boss being there for the ladies and trusting in God that issues will be soon solved.
Beside all the controversy or maybe because of all the controversy Vybz Kartel Adidija Palmer is the most talked, played, written about and thought person in Jamaica. For two decades now the veteran dancehall star, currently incarcerated and awaiting for his appeal to start in September 2017, has released tons of music that has make his old and new fans very fond of him, and this new song it is another of those positive tunes, that encourages to don't give up the fight during hard times.
Who better than Kartel knows about hard times: incarcerated since the end of 2011 he has been awaiting to appeal to his trial for for some time now. Kartel's trial has been shadowed by doubts, corruption, missing and manipulated evidence, jurors and police corruption and delays over delays.
Gaza fans are already familiar with Slimatic, the upcoming dancehall star that voiced on Voicenote riddim, a big dancehall riddim produced by Bigga Don Don Records  and released in 2015, where Slimatic debuted, with her catchy song titled – Dem Gone, as the new Gaza diva. Slimatic delivered a song that addressed all the Gaza traitors.
Gaza nation listen below to Vybz Kartel featuring Slimatic new dancehall reggae single – Fight – the official audio from Kartel's youtube Vevo account, for this beginning of May 2017.
VYBZ KARTEL FEATURING SLIMATIC – FIGHT – ADIDJAHEIM RECORDS – MAY 2017
VYBZ KARTEL FEATURING SLIMATIC – FIGHT – LYRICS
Things soon be alright
Don't turn your love life out
Smile with the sunrise
Don't give up, fight
Things soon be alright
Don't turn your love life out
Smile with the sunrise
Don't give up, fight
Things rough, but hush, mommy
Everything soon fix up
Inna life is down or up
But guess wha'? Inna God we trust
Every woman out there, keep your heads up
Every high school, no lose your focus
From the grandma to the babies
Worldboss, come talk to the ladies
Things soon be alright
Don't turn your love life out
Smile with the sunrise
Don't give up, fight

Things soon be alright
Don't turn your love life out
Smile with the sunrise
Don't give up, fight
Waan buy a house 'pon the hill one day
Buy a big Benz fi me chil' one day
Me likkle sister fi go college one
Go down 'pon me knee, every night I pray
Tired a the ? time fi a change
Tired a the west boy dem same way
Stop youth, ? gyal pickney
Talk to dem now, Addi
Things soon be alright
Don't turn your love life out
Smile with the sunrise
Don't give up, fight
Things soon be alright
Don't turn your love life out
Smile with the sunrise
Don't give up, fight
Things rough, but hush, mommy
Everything soon fix up
Inna life is down or up
But guess wha'? Inna God we trust
Every woman out there, keep your heads up
Every high school, no lose your focus
From the grandma to the babies
Worldboss, come talk to the ladies
Things soon be alright
Don't turn your love life out
Smile with the sunrise
Don't give up, fight
Things soon be alright
Don't turn your love life out
Smile with the sunrise
Don't give up, fight
Don't give up, fight
Don't give up
real deal