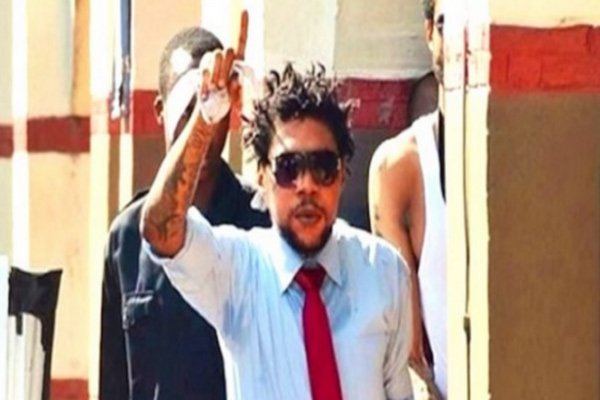 #GazaNation the time has come!
Incarcerated Gaza General Kartel, real name Adidja Palmer and Shawn Siva Storm, real name Shawn Campbell, together with two more co- accused Kaira Jones and Andre St John have been finally granted leave to move forward to appeal their convictions and sentences on the Clive Lizard Williams murder trial.
The appeal was granted on Wednesday 14 march 2017 by the Jamaican Court for Appeal.
Vybz Kartel and co-accused are all serving life sentences and during the months of the longest criminal trial in Jamaican history we often underlined how the trial has been often shadow by incidents, errors, shady depositions, shaky witness and so on.
Since 2011 we have been covering Kartel's trial, guested letters, statements from Gaza General, updates, holding the hope the Jamaican star appeal would soon come.
Kartel's and co-accused trial is well documented and so are the errors, the delays, the approximation, the tampering of evidence, so much it feels just right for Kartel and co -accused to deserve a new, fair trial.
The date for the appeal is set for September 2017, the trial will resume and hopefully will also end quick and with a different outcome for the Jamaican dancehall star.
Kartel's fans will remember how the trial went on for a couple of years and it all started with Adidja Palmer's arrest at the end of September 2011.
The attorneys representing the 4 men will fight the conviction and sentences and they have time to get prepared and be ready for the biggest fight of their life.
LISTEN TO VYBZ KARTEL – SUCCESS STORY ( TALLEST MOUNTAIN )
VYBZ KARTEL GRANTED APPEAL -TVJ NEWS
Vybz Kartel was at the top of his music career when he was arrested and while he passed almost six years behind bars,and during this time seems the whole world changed around us,but he is still on top of dancehall music, as when he got arrested. That did not change.
Not to mention his book "The Voice Of The Jamaican Ghetto" quickly became a best-seller and his music has been still topping charts, like if he was never gone.
As we remarked many times from these pages Vybz Kartel has recorded so much material prior to his incarceration that producers have been able to keep his name hot in the streets just releasing music recorded before it all happened.
When Kartel will win his appeal he will be the biggest and brightest music star Jamaica and the world has ever seen.
Vybz Kartel soon to touch road believe it!! #FREEWORLDBOSS
real deal