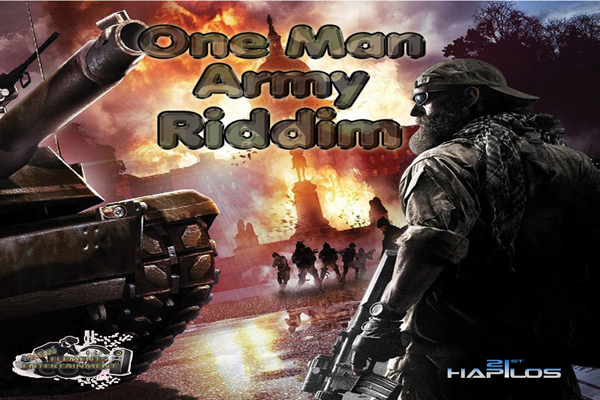 Micklaay back again, various and multifunctional on the "One Man Army Riddim"
One Man One Army riddim was released in March in Jamaica and contains 12 tracks voiced by Jamaican recording artists such as Tony Matterhorn, Dotta Coppa, Singin Sweet, Kibaki, and more artists, and of course "Micklaay himself". This riddim is intense!
[button link="https://itunes.apple.com/us/album/one-man-army-riddim/id606666638"]

BUY ONE MAN ARMY RIDDIM ON ITUNES

[/button]
LISTEN TO ONE MAN ARMY RIDDIM MIX [Jamaican Dancehall Reggae Music]



The song Called "One Man Army" (Taliban) is a direct answer to the name of the riddim with a clear statement "Strap myself with a bomb" A tough controversial lyric.
Micklaay had to position himself as an artist and producer in the music business . Apart of this track Micklaay has a featuring with "K-Queens" " Signed by Alliance Next Generation" ("Bounty Killer's Label and Movement") -"Dem nuh badda than we" ….
DEM NUH BADDER DEN WE – KQUEENS ft MICKLAAY OFFICIAL MUSIC VIDEO
Listen To Dotta Coppa- Jah Jah Army- One Man Army Riddim- New Element
To finish it off "Micklaay" also did the mixing and mastering for 8 of the 12 tracks that contains the riddim. And he's coming out with two videoclips "One Man Army" (Taliban) and "Dem nuh badda than we" "Micklaay" and "Murderend" are clearly presence on this tough Hip / Hop Dancehall riddim.
ONE MAN ARMY  RIDDIM TRACK- LISTING
01 – DOTTA COPPA – ONE MAN ARMY (JAH JAH ARMY)
02 – FLASH RAGGEDY – CAUTION
03 – KIBAKI – DEM CYAH
04 – K-QUEENS – DEM NUH BADDA DAN WE
05 – K-QUEENS FT. MICKLAAY – DEM NUH BADDA DAN WE (REMIX)
06 – KYM HAMILTON – GUNS OUT
07 – MICKLAAY – ONE MAN ARMY
08 – MZ KAT FT. ZIGGY DA DON & YUNG ROSSY – JUMP STUPID
09 – SINGING SWEET – LIFE RUFF
10 – SWAY YP – WICKED HEART
11 – TENTION – CAN'T STAND IT
12 – TONY MATTERHORN – ONE MAN ARMY
13 – ACE ELEMENTS – ONE MAN ARMY RIDDIM VERSION
real deal